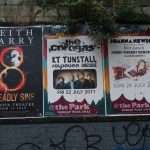 In 1977, hippies were recent history in England; in the Glastonbury area of Somerset they were still alive and well. Our English tutor fitted the profile; John Lennon glasses, a mane of red hair and a goatee bear, he seemed to occupy a sphere of reality entirely removed from those of us who listened to BBC Radio 1, watched Top of the Pops, and followed football teams. He talked of things beyond our understanding and people of whom we had never heard. Once standing at a supermarket checkout, he chatted with the assistant about shopping and problems with his motor cycle, it was a brief glimpse of another person, one who might have heard of musicians other than those who took to the stage at Woodstock and who might know who had won the FA Cup.
His influence endured long after his classes were forgotten: his conversations seemed to imply that intelligent people should not engage with trivia, should not even be aware of such matters.
Reading The Guardian brought a sense of relief. It was written by intelligent people and it had reports on football matches; it must be acceptable to know who had won the cup final at Wembley, to know the results from the previous Saturday's matches did not make one stupid.  A senior member of the staff in the Greater London Council brought further reassurance as he sat on the train one morning talking of the sporting virtues of Liam Brady, the Arsenal and Ireland footballer.
Passing years confirmed that the most intelligent of people might enjoy the silliest of trivia; there were government ministers who watched Coronation Street, prominent public figures who confessed a liking for the Eurovision Song Contest. The English teacher's intellectual purity was an exception, not a norm.
Newspaper reading habits in our house changed changed, Saturday became a day for the Financial Times, for the incisive writing of its columnists and the eclectic subject matter of its supplements. Serious material can be presented with the lightest of touches, reviewers even comment on releases by bands the English tutor would not have given a hearing. It has taken years for me to learn to distinguish between the intelligence of people like the writers of the FT and intellectual snobbery I encountered in teenage years.
Sometimes the church seems the last place where people like the English tutor might have found refuge. There are clergy who still regard themselves as authoritative speakers on matters of the utmost gravitas, but who would not have a clue about the previous evening's Champions League results, or the plots in the soaps, or what bands might be selling records.  Perhaps if you caught them at the checkout in Tesco's, they might be talking about ordinary things.