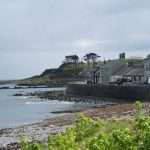 I never knew what age Frank was.  He was never fond of forms or offices or taxes, and, although well past retirement age, I wasn't sure he even drew a pension.  He was certainly too independent a man to look for grants from anyone, his farmhouse had no tap in the kitchen; water came from a pump in the yard. Frank was a story book character.  He was incredibly strong, but with the tenderness that goes with a life lived close to the richness of nature.  There had been a 'understanding' with a lady for years.  'It's a good thing we never married, we'd have been divorced three times".
Frank didn't like clergymen, a row over his renting of six acres of glebe land had made him suspicious of clerical motivations. His dislike wasn't a problem, I wasn't there to be liked.  He finally accepted that I would call anyway and we would sit at the kitchen fire and talk. He told of an encounter with other strangers.
One day a pair of boys came up the yard and said, 'This is an old place you have here, you must have some old stuff in it'.

I told him there was nothing worth anything, but I let them in to have a look around.

'Would you sell us that table?' they asked me.

I told them I wouldn't that it wasn't for sale; that it had come down through the family.

'We would give you £200 for it'. they said.

'It's not for selling', says I.  "What about that piano there, what would you give me for that?"

The piano hadn't been played in years; it was done.  I would have been glad to have been rid of it'.

'Would you take £100 for it?'

'I would', says I.

'Well, if we gave you £100 for the piano, would you take £200 for the table?'

I'm pleased with myself for getting £100 for the old piano, so I agree to the offer.

Anyway, the boys say that they only have a small van, so they will take the table and come back for the piano.  The ol' fool that I am, I let them count out £200 for the table and took their word they would be back for the piano.  I never saw sight nor sound of them again.

Do you know what?  There was a table identical to mine sold in a sale room in Belfast for £1,000
After the table incident, he had been wary of visitors. It was always a relief that it was not just clergymen of whom Frank was suspicious.