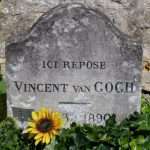 The pain of Vincent van Gogh would hardly have seemed the stuff of popular entertainment, but in 2010 an episode of  Doctor Who attempted a sensitive and touching exploration of the character. Walking through the Musee d'Orsay with his assistant, Amy, the Doctor sees an alien monster in Vincent's painting of the church at Auvers-sur-Oise. The Doctor and Amy travel through time to encounter Vincent and the storyline is a heart warming  attempt at a redeeming of the sadness of the painter – he is brought forward to 2010, and to the Musee d'Orsay, to hear himself, described by the curator, as the greatest artist of all. Yet, even in the lightness of the moment, there is the dark shadow of what happened to the real Vincent.
The Vincent van Gogh we meet in the episode of Doctor Who captures a sense of the real van Gogh we encounter in the letters he wrote. A sense of the gentle soul, whose work now commands the highest prices in the world, is found in a letter from Vincent to Theo van Gogh and Jo van Gogh-Bonger sent from Auvers-sur-Oise, on Wednesday, 2nd July 1890, just over three weeks before Vincent's death:
My dear Theo and dear Jo,

I've just received the letter in which you say that the child is ill; I'd very much like to come and see you, and what holds me back is the thought that I'd be even more powerless than you are in the given state of distress. But I can feel how very exhausting it must be, and would like to be able to lend a hand. By coming straightaway I fear I would increase the confusion. However, I share your anxieties with all my heart. It's a real pity that at Mr Gachet's the house is so cluttered with all sorts of things. Otherwise I think it would be a good plan to come and lodge here – at his house – with the little one, at least for a good month – I think that the country air has an enormous effect. In the street here there are kids born in Paris and really sickly – who however are well. Coming here to the inn would be possible too, it's true. So that you aren't too alone I could come myself to stay at your place for a week or fortnight . . .

. . . I'm writing to you at once that as regards the little one I think you mustn't worry yourselves excessively; if it's that he's teething, well to make the task easier for him perhaps we could distract him more here where there are children, animals, flowers and good air.

I shake your hand and Jo's firmly in thought, and kiss the little one.
His concern for his little nephew captures the warm humanity of Vincent, yet he could not find enough in the world to persuade him to remain. Going out to paint on 27th July 1890, he took with him a revolver and shot himself. The chest wound caused Vincent's death two days later. An unfinished letter to Theo, found on him, included the line, "Ah well, I risk my life for my own work and my reason has half foundered in it".
Were Doctor Who rooted in scientific fact, and had the Doctor been able to intervene, what extraordinary works of art might have followed?