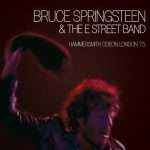 It arrived at the weekend. Ordered from a Dublin record shop, it had not been easy to locate and the order had taken some weeks. Our daughter had collected it and brought it with her from Dublin on a day's break from medical studies. It was too good to listen to in snatches; there needed to be time to listen to both discs in full, without interruption. "Bruce Springsteen and the E Street Band: Hammersmith Odeon, London '75". Springsteen's website says of the album, "This is the only full-length, official release of the early band live on stage and contains essential performances of many E Street classics".
A 45 minute car journey offered the prospect of giving the first disc a hear and it was with delicate care that it was taken from the box and put into the CD player. Pressing the "play" button brought memories of the delight there had been in buying records at the time when the East Street Band were enjoying their early success, not that I had discovered them in days as a fifteen year old.
The buying of a record was no casual decision, money was tight and selections were not to be rushed. In the days when Boot's was more diverse, and John Menzies was on the high street, together with the omnipresent W.H. Smith and the independent record shop or two a town might sustain, there might have been three, four or five shops to be browsed before a firm decision could be considered. Albums were generally out of the question, an outlay of three or four pounds was impossible, when one had only two fifty pence pieces. A 7″ single could be had for fifty pence or less, but buying the right one took time.
Looking back at the effort and looking at some of the truly dismal records I bought, it is hard to imagine what thoughts had gone through my head in those hours spent going through record store shelves. "Did I really buy that?" I ask myself, "Or was it someone else's single that somehow get muddled with mine?" The evidence tends to be irrefutable, having devised a monogram from my initials  in precocious teenage years, I wrote it on the sleeve or the label of every record I bought; the bad records were undeniably my own choice.
But there must have been the moment when the record was taken from its sleeve and played for the first time. How many times was it played? How many times in a row did I listen to the same three minutes of music (for, apart from Don McClean's "American Pie" which fills both sides, who listened to the B side of a record that was not listed as a double-A side?)
Oddly, despite remembering the purchases, there is no recall whatsoever of playing for the first time the dozens of singles on which I spent fifty pence pieces; perhaps the memories are repressed in order not to feel embarrassment. Had I spent three or four pounds on a live recording of the East Street Band in 1975, I might have avoided wasting much time and money.