Lent series 2014: Singing through Lent – It were my soul's desire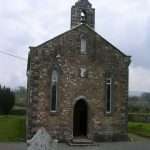 "store up for yourselves treasures in heaven" Matthew 6:20
Discipline is the traditional theme of Ash Wednesday, a day of fasting and abstinence. Discipline is the theme of the Gospel reading, praying in a proper way. Discipline was a strong theme in the life of the ancient Celtic Church, devotion to Scripture and hard penance. Discipline is the theme of the first of the hymns of our Lent series, "It were my soul's desire".
Discipline has become a word with negative associations. We watch a sports match and someone is sent off and the club announces that the person will be "disciplined." Surely, all the players at the match, all the players in the teams, all those who are involved with the clubs are subject to discipline? It would be hard to have a sport where there was no discipline, where there were no rules and no sanctions. Even being able to play the sport demands discipline; one must be physically fit and that demands a particular diet and particular level of exercise. It is not just in sport that discipline is vital, it is hard to imagine what everyday life would be like without discipline—life at school, life at work, life on our farms—we do not do just as we please. If the cows are calving, or the sheep are lambing, we don't say we will only attend to them if it suits us—we go out, whatever the hour of the night, because that is our discipline.
When we see discipline as about our everyday lives, we see it as something positive. It is not about punishment, it is about striving for the best in life.
Jesus teaches a positive discipline. He warns his listeners, "Beware of practicing your piety before others in order to be seen by them; for then you have no reward from your Father in heaven," he says in Saint Matthew Chapter 6 Verse 2. It is a discipline that is to be observed for positive reasons; in verse 4, Jesus tells his listeners, "your Father who sees in secret will reward you".
"It were my soul's desire" is a good hymn with which to begin the season of Lent, it is a hymn about positive discipline. The soul's desire, the very thing for which the person lives, is "to see the face of God"; the person's heart's desire is "to rest in his abode". There is no sense of discipline as something negative, no sense that this is a spiritual trial to be endured, far from it. Pursuing this desire brings the person "a spirit free from gloom" and assurance of "new life beyond the doom". It is a positive to begin Lent with a sense that God sees our discipline and with a sense that our discipline will lift our spirits.
Jesus teaches a positive discipline, but he does not teach an easy discipline. In a time when religion was a very public thing, it demanded self-sacrifice to do as Jesus instructed in Verse 6, "when you pray, go into your room, close the door and pray to your Father, who is unseen". What would friends and neighbours think? Would they think a person had become weak in their faith? Would they talk about the person because they were not seen praying in public?
Jesus is not content with a discipline that is simply about denial, even fasting, that most difficult of disciplines was not something to be done with a long face, instead it was to be done cheerfully. Jesus says in Verse 16, "when you fast, put oil on your head and wash your face, so that your fasting may be seen not by others". Jesus assures his listeners that if they do as he teaches, "your Father who sees in secret will reward you".
"It were my soul's desire" expresses a commitment to the sort of discipline for which Jesus looks. The writer wishes "to study zealously"; how many of us are prepared to make that commitment? To read the Bible every day and not to do so out of a sense of duty, but with zeal, with enthusiasm, is a challenge for us this Lent. And what about a rule of life, to say we are going to use our time positively? To say that we are not going to waste hours watching television, or on the Internet, or generally doing nothing? Can we cheerfully say, in the words of the hymn, "this, too, my soul's desire, a clear rule set for me"?
In Verse 18, Jesus tells the crowd, "Your Father who sees in secret will reward you". The reward is a spiritual reward, a sense of being close to God and having a good conscience. The hymn expresses a sense of the importance of a clear conscience, "Grant, Lord, my soul's desire, deep waves of cleansing sighs,
Jesus has taught his listeners about the importance of a discipline that is rewarded by God, and in Verses 19-21 warns against the temptation of seeking other rewards. "Do not store up for yourselves treasures on earth, where moth and rust consume and where thieves break in and steal; but store up for yourselves treasures in heaven, where neither moth nor rust consumes and where thieves do not break in and steal. For where your treasure is, there your heart will be also."
In the Eleventh Century, a thousand years after Jesus warned about the dangers of being concerned with treasures on earth, the unknown writer of "It were my soul's desire", prayed for the self-discipline needed not to be caught up with worries about material things, writing, "grant, Lord, my soul's desire from earthly cares to rise".
"Store up for yourselves treasures in heaven", says Jesus in Verse 20. It is hard to imagine what life was like for Jesus' listeners, or what life was like here in Ireland a thousand years ago, but we do know that life was uncertain and was very often short. Thoughts of heaven were at the heart of the faith of the people, the writer of the hymn desires to "shun the doom of hell" and wishes much more "within his house to dwell." Lent is a good time to ponder such matters, to think about life and death and to think about what it means to hope for heaven, about the discipline necessary to reach that goal. Had we lived in ancient Ireland, such thoughts would have been much more the stuff of everyday conversation.
So, as we begin Lent, let's think about what is the desire of our own soul? Have we the faith to realize that it is not the journey through life itself that is important, but where that journey takes us? Have we the discipline to see that whatever happens along the way, our desire is to be with God? As the writer concludes:
This still my soul's desire
whatever life afford,
to gain my soul's desire
and see thy face, O Lord.