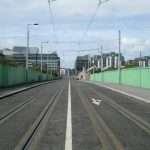 It's comely maidens dancing at the crossroads time again.  Switching on RTÉ  radio at 8.30 pm, the programme was about the production of an play in Connemara using local Irish-speaking actors. The sub-text of such programmes seems to be that this is the authentic Ireland, that the rural Gaelic culture of the West is the essential Ireland.  Try Googling "real Ireland" and see the images the search produces – there might be Georgian front doors or pub fronts from Dublin, but the overwhelming number of pictures are those of the rustic and the rugged, the landscapes of Connacht and Munster.
Sometimes it seems that urban Ireland does not exist, that the city that constitutes one-quarter of the population of the state belongs to another country. It is seventy-one years since Taioseach Éamon de Valera's outlined his vision for Ireland. In his Saint Patrick's day address on Radio Éireann in 1943, he articulated an aspiration for an Ireland which made no reference to city dwellers:
The Ireland which we would desire of would be the home of a people who valued material wealth only as the basis of a right living, of a people who were satisfied with frugal comfort and devoted their leisure to the things of the soul; a land whose countryside would be bright with cosy homesteads, whose fields and valleys would be joyous with the sounds of industry, with the romping of sturdy children, the contests of athletic youth, the laughter of happy maidens; whose firesides would be forums for the wisdom of old age. It would, in a word, be the home of a people living the life that God desires that men should live. For many the pursuit of the material life is a necessity. Man to express himself fully and to make the best use of the talents God has given him, needs a certain minimum of comfort and wealth. A section of our people have not yet this minimum. They rightly strive to secure it and it must be our aim and the aim of all who are just and wise to assist in that effort. But many have got more than is required and are free, if they choose, to devote themselves more completely to cultivating the things of the mind and, in particular, those that make us out as a distinct nation.
Perhaps it was de Valera's concern with the things that made Ireland a "distinct nation" that led to the exclusion of city life from his vision, for was one city not similar to another? But in the seven decades since, might there not have been at least some shift of emphasis? Might a programme on Saint Patrick's Eve not tell of Dublin drama as readily as Connemara drama? Might we reach the point where an Internet search for  "real Ireland" produces images of real Irish people living real Irish lives, instead of contrived picture postcard images from a former generation?