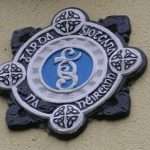 "And you smiled" sung by Matt Monro was played on the morning radio programme. As a twelve year old, I would have turned it off immediately, it had seemed wrong that the tune should become associated with words I would have described as "soppy".
The tune was "Eye Level", played by the Simon Park Orchestra; it was a record that sold over a million copies and topped the British charts for four weeks, but I was not interested in its place in the charts, the tune for me meant the television detective series "Van der Valk". TV police series were a passion in childhood days, the opening bars of the theme music of "Z Cars" still recall the devoted attention paid to each episode.  "Van der Valk", though, was different, it was set in Amsterdam: it had characters whose names were exotic; it had scenes from a city that made 1970s England look dull and drab; it had criminals altogether more sophisticated than those who appeared in "Z Cars", "Softly, Softly" or "Dixon of Dock Green".
Of course, "Van der Valk" was a British detective series set in Holland. Amsterdam created the possibility of story lines, particularly those involving international crime, that would have been less credible in an English city. Commisaris Piet van der Valk might have had a Dutch rank and name, but he was played by English actor Barry Foster. Whatever the realities, though, the  programme was one  to discuss with school friends the following day.
Almost twenty years after its first appearances, in 1972-73, "Van der Valk" enjoyed a revival in 1991-92, during which time Piet van der Valk had been joined in the Amsterdam police force by his son Wim. The viewing seemed as compelling as it had been two decades previously, though perhaps there was more than a tinge of sentimentality in watching a programme that had been so well known in more youthful days. Two of us watched the 1990s "Van der Valk", our son Michael had been born in 1990 and I would sit with him beside me as the stories unfolded. "Watch Commisaris van der Valk, Mikey, you can learn stuff from him".
In January of this year, An Garda Síochána, the Irish police force, began recruitment of new officers for the first time since 2008. Mikey was one of 25,000 applicants; the first round test took him through to the last 5,000, in the second round test he reached the last six hundred applicants. On Wednesday of this week, he faces the third round of tests; the tension is far greater than that of any episode of "Van der Valk"  – and there was probably not much to learn from a 1970s cop series that could be applicable to 21st Century policing.