Lent Series 2014: Singing through Lent—Man of sorrows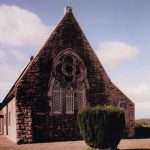 "And as Moses lifted up the serpent in the wilderness, even so must the Son of man be lifted up: That whosoever believeth in him should not perish, but have eternal life." John 3:14-15
"Lifted up was he to die" says the words of the hymn "Man of sorrows": Jesus being lifted up to die is not a pleasant thought, in fact, when we think about it, it's horrible. This is the very point that Saint Paul was trying to make when he wrote to the Christians at Corinth, in the First Letter to the Corinthians, Chapter 1 Verse 23, he says "we preach Christ crucified: a stumbling block to Jews and foolishness to Gentiles ."
The word we translate as 'stumbling block' also translates as 'scandal'. Christians in the first centuries were not troubled by being scandalous. They were on the edge of society. When they were excluded from the Jewish synagogues near the end of the First Century, they became a radical and underground group. They faced a series of persecutions because of their refusal to deny Jesus, but the Christian Gospel was so strong that no persecution was ever going to be successful.
By the time of the emperor Constantine at the beginning of the Fourth Century, Christianity was well-established. Constantine's conversion in 313 AD and the establishment of Christianity as the religion of the Roman Empire was a recognition of the reality that already existed. The Anabaptist writer Stuart Murray-Williams points out that a subtle but very important shift took place at the time of Constantine, the Cross is superseded by the Chi-Rho monogram as a symbol of the faith (Google Chi-Rho and read for yourself how the monogram began). Christianity was now the religion of the powerful and the respectable. They did not wish to be reminded of the scandalous roots of their faith, they would not have wanted to have been reminded of the "man of sorrows".
By the time of the Crusades, the Cross had become not an emblem of suffering and shame, but of dominance and power; to Moslems in the Holy Land it was a symbol of aggression and merciless violence.
Christians forgot the roots of their faith; they forgot the Jesus who was an outcast and a reject, and whose death was a scandal; they forgot the faith that Saint Paul proclaimed that was "a stumbling block to Jews and foolishness to Gentiles". They forgot that their Lord had been a "man of sorrows" and had been lifted up to die.
Christendom became the order of things, Church and state seamlessly together. Even when the Reformation took place in Europe, a Catholic Christendom was simply replaced by a Protestant Christendom. The Church was about power and influence and respectability, it was not about a man of sorrows, it was not about a Galilean carpenter hanging on a Cross.
The hymn "Man of sorrows", is founded on Scripture; read Isaiah Chapter 53 and Saint John Chapter 19 and you see how strongly it is based on lines from the Bible, but it was not included in our hymnbook until the year 2000. Perhaps it was excluded because its music did not meet the standards set by those who knew about such things, perhaps also it was excluded because it was a hymn that was too personal, that it left people feeling uneasy.
"Man of sorrows! What a name for the Son of God, who came ruined sinners to reclaim!"
"Man of sorrows" is a name drawn directly from Isaiah Chapter 53 Verse 3, "He is despised and rejected of men; a man of sorrows, and acquainted with grief: and we hid as it were our faces from him; he was despised, and we esteemed him not".
"Ruined sinners": can you imagine the medieval church standing up and saying we are ruined sinners? Can you imagine our bishops and our synods standing up and saying, "we are ruined sinners who need to be reclaimed?" Sometimes, people seem embarrassed when anyone tries to talk about such things. It's as though we feel we don't need such a faith, that we can find our own salvation, that we are not "ruined", that "sinners" is a word that only applies to people from long ago and does not describe us. We want an easy religion, what we don't want is a man who was despised and rejected, what we don't want is to be humbled by the thought that we need to be reclaimed.
"Mocked by insults harsh and crude, in my place condemned he stood; sealed my pardon with his blood". The hymn recalls the scene described in Saint John Chapter 19 Verses 2-3, "And the soldiers platted a crown of thorns, and put it on his head, and they put on him a purple robe, And said, Hail, King of the Jews! and they smote him with their hands". The hymn recalls the mockery of the trial before Pilate and says "in my place condemned he stood; sealed my pardon with his blood". It continues, in the next verse, "Guilty, helpless, lost were we; blameless Lamb of God was he: sacrificed to set us free". Isaiah Chapter 53 Verse 6 puts it this way, "All we like sheep have gone astray; we have turned every one to his own way; and the Lord hath laid on him the iniquity of us all".
The words of Isaiah run contrary to our human inclination, how many of us see ourselves as sheep who have gone astray? Our human pride tells us we are all right, we might not be perfect, but we are not bad people. "No", says Isaiah, "we have turned every one to his own way" and Jesus has stood in our place, "and the Lord hath laid on him the iniquity of us all".
What does it mean for Jesus to take our place? Do you remember Barabbas? He is the rebel who has been sentenced to death for his part in a rising. On Good Friday morning, he is in a dungeon awaiting execution when he hears the crowds shout, "Away with this fellow! Release Barabbas for us!" Can you imagine how he felt? Can you imagine what thoughts went through his mind as the door is opened and he is released from his chains? Can you imagine his emotion as he is told that he is free, that he can go? Can you imagine the change that would have come over him?
Barabbas is representative of all of us. He is freed because Jesus is punished. The message at the very heart of the Gospel is that we are a guilty, helpless and lost people, a people who deserve God's judgment, but we are set free. We are given a chance of a new life because Jesus has taken our place. Like Barabbas, we can walk out, with no charge against us; free to live a new and fuller life. How do we respond?
"Man of sorrows" draws on John Chapter 3 Verse 14 and John Chapter 19 Verse 30 as it declares, "He was lifted up to die;' It is finished!' was his cry." It is saying that the way to victory is the way of the Cross, and that this is not just something from the past, it is about the present, Jesus is "now in heaven exalted high". More than that, though, the story is about the future, "When he comes, our glorious King, all his ransomed home to bring".
Jesus says that being lifted up, he will bring people eternal life. The words of the most famous verse in the Bible put it this way, "For God so loved the world, that he gave his only begotten Son, that whosoever believeth in him should not perish, but have everlasting life".
"Man of sorrows" is not an easy hymn, it is a challenge. There are some people who do not like it, but responding to the message of the Cross was always a challenge and there were always people who did not like it. Saint Paul says in the First Letter to the Corinthians Chapter 1 Verse 18, "For the preaching of the cross is to them that perish foolishness; but unto us which are saved it is the power of God".
The message of the Cross is the power of God; well might we sing, "Alleluia! What a Saviour!"