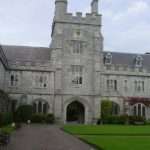 Memories of our first Easter weekend in the Republic come flooding back. In theological college, we were required to be present in college until after the Holy Communion at teatime on the Thursday, after which there was a general exodus. The trip to the North was a journey entirely without motorway; this was April 1984 and having a road without potholes was a bonus. Each town and village brought delays as literally thousands of people gathered at church for the Holy Thursday liturgy.
Good Friday was spent at home in Co Down, for in Northern Ireland Good Friday was not a public holiday and the 22 year old who supported us both was at work.
On Easter Eve, we loaded our Renault 5 and headed south. There was a stop in Banbridge while the dearly beloved went to buy a pair of white dungarees and then we joined the Belfast to Dublin road, filling the car with petrol prior to crossing the border. Somewhere on that journey, we must have stopped for lunch, or maybe we took sandwiches, money was in short supply.
We arrived in Cork before tea, to be hosted by a college friend. As darkness approached we went to Saint Finbarre's Cathedral for the Easter Vigil, the beauty of the liturgy remaining fresh and appealing thirty years later.
On Easter morning, there was worship at the local parish church where the Rector baptized his grandchild. He preached no sermon, 'what more can I add to what we have read?' he asked the congregation. In the afternoon, we went to Kinsale and walked around to Summer Cove. It was a quiet place in those times, no crowds and ample parking..
Easter Monday took us westward, to Inchydoney Strand and to Rosscarbery. The sun shone constantly; the photographs in the album are like ones from a summer holiday.
All too quickly, Tuesday came and the return to Dublin. Perhaps now we would not consider such a weekend – who would drive from Co Down to Cork for a couple of days? Yet they were days of such intensity that they loom larger than weeks, and even months, from more recent years.
The great crowds one would have seen in 1984 no longer gather outside the churches, and, since being ordained in 1986, there is no opportunity to go away for the Easter weekend, but this year the sun shone as it as it had on those distant days in a former Ireland, and the traffic on the road to Dublin this evening moved at a speed worthy of thirty years ago.