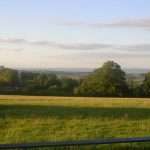 In the late evening sunshine, the dark Mercedes Benz was stopped on the hard shoulder of the motorway. There appeared to be no problem. The driver had got out and gone to the nearside of the car to open the rear passenger door. Something was wanted for the continuing journey westward. Could one be fined for stopping on the motorway to search the back seat? There was probably a law forbidding such activity, though the driver would probably claim he had stopped to investigate some strange noise that had caused him concern about the safety of the car. Expressing a concern for safety was a versatile trump card in dealing with officialdom; no-one could gainsay that safety was paramount.
The man seemed hardly to notice the traffic passing at high speed; he was as relaxed as someone parked at a local beauty spot on a fine day, or at the car park of Tesco on a lazy afternoon when shoppers are few and far between.  In his sixties,with greying hair and neat moustache; his sweater, open necked shirt and cream coloured trousers marked him out as someone at leisure. A man in no hurry either to come from somewhere, or to go somewhere else.
Had time frozen at that moment, it would have been a moment of tranquility. Had the world stopped with the driver of a thirteen year old Co Clare registered Mercedes taking something from the back of his car, then it would have been a good ending. A picture of contentment, of journeying west to a place of beauty; a picture of security, of being unfazed; a picture of being without a worry in the world.
It is odd something so dull and ordinary and commonplace should have the capacity to infuse passing seconds with a sense of all being well.
Were the question asked about such seconds in times past, how many would there be? It is a good game to play when driving on a motorway: when would be a good time for the world to stop?
Always, the question prompts the recall of a single scene. Harvest time on the home farm in Somerset and a cousin's orange Triumph Toledo parked in a field; its passenger door is open and the Rolling Stones' song "Angie" is being played on the radio. It was one of the hot summers, maybe 1975 or 1976, probably the latter, and there is nothing to burst the bubble of optimism.
The problem with such moments is that they happen unannounced, and depart as swiftly as they arrived. Were contentment something that might be created, its manufacturer would instantly become the world's richest.