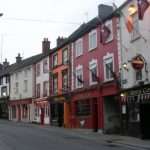 Dressed in jeans and a fleece and wandering through the streets of Kilkenny with my camera over my shoulder, I did my best impression of being a curious tourist. It was obviously a complete failure. An American visitor, conferring with his friends, declared, "This gentleman looks like someone who would know". He turned to me and said, "Excuse me, sir, but could you suggest a pub where we might hear traditional music tonight?"
I suggested a bar where there was Irish traditional music at least sometimes, and assured him that even if there were no music tonight, there would bound to be traditional musicians in one of the neighbouring establishments.
There was a moment of sadness in the thought that in days when we lived in the North, there were not many places where we might have gone to hear traditional music played, pubs in Protestant areas were not inclined to invite musicians whose political loyalty might have been questioned by some among the clientele. It was not that there was a shortage of Ulster songs that might have been sung, just that there were not many places where they might have been performed.
In student days, thirty-odd years ago, there was a pub in Manchester where no-one would have asked who we were or what we were; pay for the beer and listen to the music and you were left in peace.
The musicians' repertoire included the Ulster songs, I'll tell me Ma and Star of the County Down, both of which invited lively participation,  (I'll tell me Ma has become one of the songs sung by the Ulster rugby fans; it is fun to sing on a fine evening in Dublin). The musicians in Manchester in those now distant days were skilled and confident enough to vary the songs; among the "come all ye's" and the sing-along stuff, they would throw in quiet and reflective material in the expectation that the buzz of conversation and chink of glasses would fade away to silence and that the Friday night crowd would stop and listen.
Among the reflective material, there was no song more atmospheric than My Lagan Love. Perhaps it was really about a river in Co Donegal, but for a while at least, it endued with a sense of romance and magic the river that flows from Slieve Croob in Co Down to reach the sea at Belfast. The most prosaic of places became poetic in the silence of that pub.
Hopefully, the Americans found a bar where people listened.