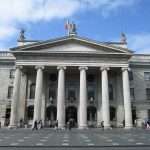 At the age of eighteen, my grandmother found employment in the post office savings bank as a sorting assistant. It was January 1927 and post office work was something coveted. Offering steady pay and a pension at the end, a career with the post office might not have been exciting, but was stable and secure. Among the colleagues the young Marjorie came to know was Johanna "Hannie" Collins, from Clonakilty in West Cork. Hannie Collins was almost thirty years senior to the young assistant and had joined the post office in London in 1899, when nineteen years old (and would remain until her retirement in 1940).
Given their age difference, Hannie Collins must have seemed like an honorary aunt to the young Marjorie. On one occasion, perhaps Marjorie's 21st birthday in January 1930, Hannie gave her the gift of a pocket torch – a gift that Marjorie much valued because it was said to have belonged to Hannie's younger brother, Michael, who had for fifteen years lived in London with Hannie.
Of course, the torch comes with no written provenance. There are post office records showing Hannie Collins and Marjorie Bennett worked in the post office savings bank – but there is nothing more than family tradition to say that they knew each other, or to say that the antique torch had come from the Collins household. To have hoped their might be a provenance would have been naive. Who would keep a written record of who they knew at work? And who would give a gift like a pocket torch with a documentary evidence attached?
What is notable is that Michael Collins had become an iconic figure by 1930, that, within a decade of his death in an ambush at Béal na Bláth in Co Cork in August 1922, to be given something that was said to have belonged to him was thought a privilege. As the centenary of the Easter Rising approaches, so the value of authenticated memorabilia will rise sharply: what is it about such things that people find attractive?
The desire for 1916 memorabilia is part of a wider market for the possessions of the famous and dead. Look at auction prices for even ordinary things owned by those who achieved fame, it is astonishing what collectors will pay. Perhaps there is a feeling among bidders that the item somehow conveys something of the person, that in looking at it, or holding it, one receives some essence or quality of its former owner? Watch the results of memorabilia auctions, and it is not hard to understand how the medieval church became rich selling undocumented holy relics, the buyers believing that the relics could convey qualities of holiness.
Hannie Collins must have had numerous things that had belonged to her late brother, perhaps such mementoes were sprinkled across west London, including other torches he might once have used. Now, if there was a piece of paper declaring it had been used by Collins in 1921, during his time in London negotiating the fateful Anglo-Irish Treaty, a treaty that would lead to his assassination, then my grandmother's torch would escalate in value – though the reason why still escapes me.