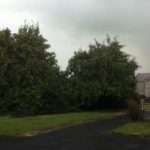 The group of teenage boys walked along the road leading from the town in a disconsolate sort of way. Perhaps it was just that sort of day, overcast and humid, oppressive, thundery. Perhaps it was boredom that carried them along at snail's pace and inspired the glum appearances. Perhaps it was knowledge that the long holidays, that had begun at the end of May, were drawing towards a close; two more full weeks before the autumn term at school became a reality, two more weeks before the days of freedom came to an end.
Their looks of gloom rekindled memories of a puddle across the road from our house at the edge of a little Somerset village. Cars and tractors would swing wide to turn into or out of the lane that ran beside our garden and as they did so would cut into the verge opposite the house. The big agricultural tyres would cut deep into the soil, leaving a hard packed rut. When heavy rain came, as it always did, there would be a deep puddle, the width of a tractor tyre and stretching for two or three yards.
It was a puddle sufficiently deep to command the interest of a primary school boy. I remember standing there one Sunday evening, feeling sick in the pit of my stomach. The school summer holidays, that had promised to last forever, were over; how could six weeks pass so quickly? Nothing could pull me from the slough of despond in which I stood, facing the bleakness of returning to school. There would be desperate childish hopes that perhaps the school would burn down, or that a mysterious illness would force its closure; they never materialised.
Memories of the puddle remained so vivid that once, when in Somerset, in my mid-forties, I had walked across the road to check that the puddle had gone, that no future generations of boys could walk ankle deep through its dirty water.
For years that puddle had the power to evoke feelings of fear. No matter how old I was, I could be pulled back to the thoughts of a lonely nine year old standing in the mud at a country roadside. It was hard even to articulate what the fear was, once school began, it wasn't so bad; it was just a sense of a loss of time and freedom and feelings hard to bring into the imagination, let alone express in words.
Perhaps in forty or fifty years time, one of this afternoon's group of teenage boys will remember a walk on a heavily grey afternoon and the impending threat of thunder and of the return to school. I hope not.