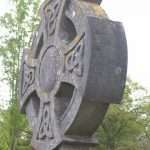 The man on the RTE radio programme this morning said that communication was 80% body language, 12 per cent tone of voice and just 8% words, (only hearing the middle part of the interview while driving the car, I don't know who he was). Can that really be true? Do the actual words we use really account for only one-twelfth of what we communicate, and what does that say to those of us who are in the business of trying to communicate with people Sunday by Sunday?
If we take the percentages seriously, even if they are far from exact, what should they tell us about how to communicate with people sitting in the pews?
If the actual words are only eight per cent of normal communication, then is that percentage even lower in the case of communication in church where words are often technical and obscure? When we say the Creed, how much meaning is communicated to those who participate in the words? How much is communicated to those who stand silently and listen? Similarly, the Eucharistic prayer, the prayer over the bread and wine, what meaning is found in some of its more difficult phrases?
If tone of voice accounts for twelve per cent of communication, then it is fifty per cent more important than the words on the page. A friend claims to be able to identify the tradition from which someone comes simply from the tone of voice they employ, suggesting there is a Catholic tone, a Presbyterian tone and an Anglican tone. The Anglican tone at its worse carries the pejorative label "parsonical;" an affected poshness, a pomposity. No-one in college days or since ever suggested that there might need to be training in the tone employed, lest whatever good might have been done by words is completely undermined by the delivery of those words.
It is the suggestion that four-fifths of communication is body language, that it is non-verbal, that is most disturbing. As someone who has all but forsaken pulpits, relenting to the wishes of the traditionalists for one service a month, there is a certain sense of feeling vindicated in a wish to hide neither behind pulpit nor lectern, but is there then a need to look carefully at what inadvertent non-verbal communication there may be? Might those who sit near the back feel threatened rather than welcomed if the Rector wanders down to talk to them during the sermon? Might those accustomed to focusing upon a single position in the church find movement distracting, off-putting? Might those looking for non-verbal cues find body language difficult to read when it is concealed beneath layers of clerical robes?
If ninety-two percent of what I communicate is in posture and tone, how much useful can be said on the words of a computer screen?