A life ended by "a criminal dereliction of duty"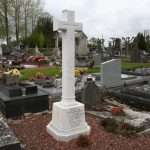 Preparing for commemorations of the Great War, a search for information on the most decorated son of the parish made depressing reading.
Lieutenant-Colonel George Despard Franks had come from Westfield, Mountrath. Educated at Repton School in Derbyshire and the University of Heidelberg, he joined the army in 1894 and was a veteran of the Boer War, where his service brought him a mention in dispatches. He was recipient of the Distinguished Service Order in 1917.  By 1918, he was forty-five years of age and still fighting on the frontline.
George Franks appears in Lord Anglesey's 1995 work, "A History of British Cavalry: Volume 8: 1816-1919 The Western Front, 1915-1918." Anglesey quotes from the diary of Sergeant David Brunton of the 19th who described a cavalry action at Falvy on the Somme in March 1918,
"Formed up for the charge under heavy machine gun fire. We now received orders to retire over Falvy Bridge. Colonel Franks with 'A' and 'C' Squadrons galloped in a northerly direction to cross St Christ bridge. I received orders to take control of  'B' Squadron and get into dismounted action to hold the enemy. Later, when ordered to join HQ west of the river, I found the bridge had been destroyed by our own engineers. Had to leave the horses behind . . . Enemy planes very active during the above stunt.
To have served throughout the Great War, to be familiar with the difficulty of galloping horses across the mud of No Man's Land, to be aware of the devastating effect of machine gun fire, and still to be leading cavalry squadrons, demanded exceptional bravery.
Lieutenant-Colonel Franks appears again in Anglesey's history in his description of the second battle of Cambrai, on 8th October 1918,
Haig had issued particular directions to Kavanagh, who alone was to be responsible for orders to the 1st and 3rd Cavalry Divisions, that heavy losses were to be avoided. Kavanagh therefore committed only the 1st, whose commander, Mullens, the moment his leading brigade (the 9th) came up against opposition, tried to work his other two brigades round the flanks. Three wonderfully gallant, desperate mounted charges, two by parts of the 19th Hussars and the third by part of the 20th Hussars, took place on this day. All were totally fruitless and resulted in unnecessary casualties, including the 19th's commanding officer, Lieutenant-Colonel Franks. At the start, according to Sergeant Brunton, Franks had told the senior NCOs, 'I am the man to drop the flag and off we go to Death or Glory. If it is successful it will be a bigger thing than the Palestine affair'. Two troops of the regiment actually reached some field guns and were able to cut down a few gunners with the sword before being virtually destroyed by machine gunners who had appeared from dugouts in their rear. The regiment's casualties were 111, including four officers killed and 120 horses. 'The cavalry', comments the 20th's historian, 'were out to justify their existence at last'. Thus had deep frustration resulted in what was nothing short of a criminal dereliction of duty.
Four weeks before the end of the Great War, having seen and survived unspeakable horror and violence, George Franks was cut down riding his horse against a machine gun. What had gone through his mind when he had received the order to attack? What were his thoughts as he rode ahead of his men into a hail of bullets?  What could he have made of such madness? Ninety-six years later, and the logic of it all is still difficult to comprehend.