Make this Christmas one to remember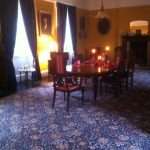 A gentle, softly spoken man, he lived in a terraced house in a street of what had once been a mill town, but was by then a dormitory for Belfast. The old community had been diluted by the arrival of thousands of new people living in the housing developments that encompassed the town. The streets in the town centre, houses where the front door opened on to the pavement and where there was no more than a small yard at the back, did not attract young families and were mostly inhabited by people who had lived there for decades – most of them being single person households. His house was in a particularly difficult spot, the road that passed it carried traffic around the edge of the town and parking was not easy; double yellow lines only added to the isolation of the cluster of brown stone houses. He suffered from a severe chest condition, requiring oxygen in the house, and did not venture out.
Christmas was approaching and sitting in the small room in which he passed his days, he reflected on a local doctor who had just retired, a man who had been his doctor for decades. "I will miss him when Christmas comes".
It seemed an odd comment. "Why Christmas in particular?"
"Because he always brought me my Christmas dinner", he replied.
Perhaps there are still general practitioners who take people their Christmas dinner, but at no time were such things ever part of any National Health Service contract. I wondered how many other elderly people the doctor visited on Christmas Day in his undemonstrative round and how many neighbours ever realized that the house calls were not due to any sudden illness.
"Don't worry about Christmas dinner, we'll make sure you get something".
The long suffering lady of a nearby house raised no objection to putting out an extra serving, nor to her husband slipping away for a while to visit the man. Each Christmas until the illness finally got the better of him, someone brought him his Christmas dinner, and visited him not only at Christmas but at other times as well.
The old man took heart that someone cared for him and those of us who visited took delight in being able to make a difference.
Driving to Portlaoise this afternoon to visit people in residential care, the streets were filled with cars heading to the shops. If people would spend just one-tenth of the time they spend on shopping, knocking on the door of the  neighbour down the street or at the cottage up a boreen, it really would be a Christmas to remember.