What you have with the tea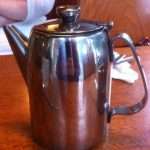 This afternoon typified Ireland in December; cold, grey and wearying. Visiting the local hospital, there was a desire to sit in silence for a while, to sip tea, to watch the day. The canteen serves tea in mugs, the teabag left in the mug to allow customers to choose when to take it out; usually, there are slabs of home made fruit cake wrapped in cling film. "A cup of tea, please", I asked the nice lady, and searched for the cake; apple tart, sponge, no fruit cake. A moment of disappointment. There were scones under a plastic dome, fruit and cherry; one of those would suffice.
"Butter and jam?" asked the nice lady.
"Of course", I said.
"It is not the tea; it is what you have with the tea". His voice surfaced into consciousness.
Undergoing an angiogram in a Dublin hospital last year, the cardiologist had turned the monitor around to point out obstructions in the coronary arteries caused by a build up of cholesterol. "Too many church hall teas", I had commented.
"No", he said, in his soft German-accented English, "it is not the tea; it is what you have with the tea that is the problem".
Of course, I knew that, and dutifully lost a stone and a half to get below the target weight set; still eleven pounds above the optimum, but the consultant is happy. Yet, even knowing that the scone was the wrong choice, I still chose it.
There are undoubtedly numerous studies into the psychology of "comfort eating", numerous articles in learned journals on why people choose to eat food that only does them damage. Of course, the choice could have been worse than a fruit scone; a bar of chocolate might have been bought, or I might have pulled into a local 24 hour service station and bought a bag of chips.
The world did seem slightly less heavy when I stood up to go out of the canteen, but that was probably more due to the burst of caffeine from the very strong tea than from any beneficial effect of a scone with butter and jam.
Someone would probably make a fortune if they could produce a comforting foodstuff that had no detrimental effect. It could be especially marketed in hospital canteens. "Feeling cold and grey?" the advertisement might ask. "Feeling tired and weary? Then we have the very thing you need. No calories, no artificial additives, no bad side effects". Of course, it would still never taste as good as a slab of fruit cake, and would leave many doctors without employment.