Blessed are the poor in spirit?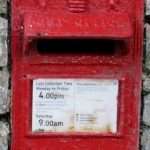 It is a day on which to remember her.
Once the post office had been a busy shop, though in such a small village it was probably never a "thriving business". By the late 1960s the shop facilities were no more than sweets and soft drinks that might be sold to small boys with a handful of pennies. Together with her mother's pension, the post office provided an income on which the lady and her mother lived; it can never have been very lucrative. There was the sale of stamps, something still important in times when telephones were few and used for essential matters, and the payment of benefits, chiefly old age pensions and children's allowance, for the people of the village were a healthy lot, and the times were prosperous, so sickness benefit and unemployment assistance payments would not have been common.
Why remember her today? There is a biting wind and heavy rain and daylight has never dispelled the blanket of greyness. It is one of those days when one wonders if the warmth of summer will ever return, one of those days when one can go out wearing five layers and still feel cold.
On such a day, probably in the late-1970s, the lady appeared through the door that connected the business part of the building with her residence. Alone since the death of her mother, the post office was her source of income, even the sweets had disappeared from the shelves. It was a day to be sat at a fireside, the sale of one stamp costing less than ten pence must have hardly seemed to be a good reason to be in the chill air of the post office. The green cardigan she wore lingers in the memory, a veteran of many winters. A scarf was tied at her neck and she hugged a blue rubber hot water bottle to herself. The encounter lasted no more than a few seconds, but left an indelible impression.
Had the moment happened on a winter's day in 2014 and not at some distant time when the world was different, it is still difficult to imagine what might have been said that would have made a difference. Of course, the lady might have sold her house and tried to find somewhere smaller and perhaps had a little money to spare; of course, there might have been people who might have given wise advice, if one knew who they were; but the post office had been her family home and her family's life. Six days a week, except for bank holidays, the premises were open for the appointed hours; never a holiday, never a change.
"Genteel poverty" is the worst sort, there is neither understanding from those who do not share it, nor solidarity with others who have low incomes. What thoughts passed through the lady's mind on each passing day are hard now to imagine.
"Blessed are the poor in spirit", says the Bible, because of a promise of a world to come. The lady had not much by way of blessing in this world, particularly on cold days in December.