Sermon for Sunday, 8th March 2015 (Third Sunday in Lent)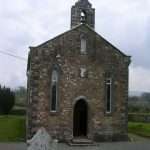 "They believed the scripture and the word that Jesus had spoken" John 2:22
"Fair exchange is no robbery" says the old proverb, but in today's Gospel we encounter two exchanges that are unfair, exchanges where ordinary people are robbed of what should be theirs, and one exchange that is altogether different, an exchange that is the reason why we are here in church today.
Jesus has gone to Jerusalem for the Passover and in Saint John Chapter 2 Verse 14, we find the first of the unfair exchanges, John tells us,"In the temple he found people selling cattle, sheep, and doves, and the money-changers seated at their tables". The trading in the Temple was more than an example of unfair exchanges, it was straightforward exploitation of faithful people.
Pilgrims to the Temple would wish to make a sacrifice, but they could not bring their own animal with them, it must be bought at the Temple. Ostensibly the rule was to ensure the purity of the animals, to ensure that the sacrifice might be one that was pleasing to God, but it allowed great scope for profiteering, great scope for sellers to charge prices far higher than might have been paid elsewhere. If we read the accounts of Palm Sunday in Saint Matthew, or Saint Mark, or Saint Luke, we see what Jesus thought of those who sold animals in the Temple. In Saint Matthew Chapter 21 Verse 13, Jesus says plainly, "It is written, 'My house shall be called a house of prayer'; but you are making it a den of robbers.'"
It is not fair exchange, it is robbery, and it was being carried out not only by the animal sellers, but by the money changers as well. Pilgrims had to pay a Temple tax, it amounted to as much as a day's wages for poorer people, but it could not be paid in ordinary currency, it had to be paid in a Temple currency that had to be bought from the money changers – they would charge as much as a further day's wages as commission for changing the coins.
The financial business of the Temple was business in which the faithful were robbed, in which they were exploited by those in charge. The faithful were robbed not only of their money, but of the place that should have been sacred for all.
The priests in the Temple have exchanged one place for another. Jesus recognizes that the exchange has not been fair, that it has robbed the people and that it has robbed God.  Jesus uses a whip to drive out the sellers and their animals, he throws the money changers' coins on the floor and overturns their tables, and he complains loudly of the exchange that has taken place. In Saint John Chapter 2 Verse 16, he says, "Take these things out of here! Stop making my Father's house a market-place!"
The solemnity, the sacredness, the holiness of the Temple has been exchanged for a market place. People have been robbed of their money and robbed of the place that was special to God: these have been no fair exchanges.
Jesus, though, speaks of a third exchange, the exchange of the old form of worship for another. He is challenged about what he is doing and he answered them in Verse 19, "Destroy this temple, and in three days I will raise it up." The Jews express disbelief and Saint John adds, in Verse 21, "he was speaking of the temple of his body."
Worship is going to be something thoroughly different. When he has a conversation with a Samaritan woman in Saint John Chapter 4, Jesus explains that the Temple and all that went with it would become irrelevant. In Verses 23-24 of Saint John Chapter 4, Jesus says, "But the hour is coming, and is now here, when the true worshippers will worship the Father in spirit and truth, for the Father seeks such as these to worship him. God is spirit, and those who worship him must worship in spirit and truth."
No longer will the Temple in Jerusalem be the focus of worship. God's presence will no longer be in a building in a city, but Jesus himself will be the temple, the place of God's presence on Earth. The Temple ceremonies, the old way of worship, will be exchanged for worship in spirit and in truth.
The exchange of the old ritual ways for worship in spirit and in truth was a grace-filled exchange, it allowed us access to God for nothing, at no cost, no cost other than what Jesus did for us.
Reading the account of Jesus in the Temple, reading about him driving out the sellers and the animals and the money changers, we should have a sense of what it meant, that finding the presence of God would no longer be about a particular place at a particular time, but would be something possible at all times and in all places. We meet here today because Jesus exchanged the old ways for a new way.
After Jesus had risen from the dead, we are told, in Verse 22, that the disciples looked back on moments such as this one, they remembered what Jesus had said to them, "and they believed the scripture and the word that Jesus had spoken."
Fair exchange is no robbery. There was no fair exchange when people were being robbed of their money, no fair exchange when the place that was to have been sacred for all was turned into a place of profit for a few. And, being honest, there was no fair exchange when Jesus became the temple of God's presence, when, through his sacrifice on the Cross, he became our way to holiness, for what can we give him in exchange for what he gave us? The most extraordinary exchange of all: God's Son in payment for ourselves.