Feathered flights of imagination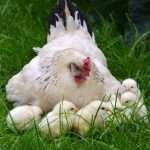 Sitting in the study and staring around for inspiration, the calendar caught the eye, the page for the month of March from the 2015 Irish Farmers' Association calendar. "Mother Hen" the picture is called and comes from Derek Fetherstone of Co Roscommon.
The picture of the hen and her brood of chicks evoked memories of childhood days when life was going to last forever and where the world was a very simple place.
My Granddad's farm where I spent my early years was very old-fashioned, even in the early-1960s it was old-fashioned. The memories there come from times before I was literally dragged to the village school, being lifted kicking and screaming onto the school bus each morning. If I could be sick during assembly I could escape the ogre that taught the infant class. Miss Todd, the headmistress, would 'phone my grandmother; and my uncle who was at home on the farm would come and collect me in his green Morris Minor Van with its reassuring smells of straw and cattle feed.
The smell of straw always evokes reassuring memories. It brings to mind my uncle's van. It brings to mind the warm smell of the dairy cows in their stalls on cold and dark winter evenings. It brings to mind the wheat and barley harvest during the month of August.
Hens and chicks bring the most vivid memories. The arrival of the grain, gathered in hessian sacks stacked on a flat trailer and pulled in from the fields by a Fordson tractor was a great time for the hens that my grandmother kept. They lived in wooden houses close to the farm house and spent their days scratching around the yard. The eggs were always a rich brown colour and my grandmother would wipe each one individually before placing them in trays that were collected by the egg man each week. Summer days were great for the hens. There was constant activity around the farm, no fox dare come near. If any fox should be tempted, there was a 12 bore double barrelled shotgun inside the back door. Its barrels were a polished, dull black and the stock was a rich chestnut colour; the gun had a frightening fascination for a small boy.  The world was safe for the hens and there were rich pickings to be had in the grains of corn that fell to the ground as heavily-laden trailers rolled across the yard.
If the hens were well-protected, their chicks were even more so. At the first sign of danger from approaching tractors or small boys, the hens clucked loudly and the chicks came running to shelter under their wings. Contemplating the picture, it is an easy matter to slip back to Somerset and stand in that yard on an August day fifty years ago.
Thank you, Derek Fetherstone, for a few moments of magic.