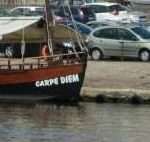 An exceedingly long day. A morning spent in Easter preparations. An afternoon spent in Dublin to watch a rugby match at Lansdowne Road. An evening spent at Easter vigil services that concluded at 11 pm. Life lived in a way where hours were not filled would be life wasted, The greatest heresy of our time is that time should be wasted, that we should pass years putting in time.
Today recalled the BBC television drama series "Our Friends in the North." The North in the television series was Tyneside, the north-east of England. The series finishes with a single question; a question that has the strength two decades later that it had on the television screen in 1996.
The four friends from thirty years previously are gathered in Nicky's house after his mother's funeral. Nicky had loved Mary in the 1960s and, perhaps for the sake of the past, Mary agrees to meet Nicky for lunch the next day. There is a sense that the list of lost opportunities is going to grow longer and you almost will Nicky to say something. Mary leaves in her car and Nicky suddenly realizes that he cannot let another moment escape. He runs frantically through the streets of the housing estate, taking short cuts, and manages to intercept Mary's car.  Mary winds down the car window and, gasping for breath, Nicky asks, "Why not today?"
The question seems to redeem the previous thirty years.
Mary smiles at him and agrees.
Despite it being almost twenty years since the series was screened, the image of the breathless Christopher Ecclestone who played Nicky is still clear in the mind, "Why not today?"
I remember when a friend died of cancer in 1997,  a year after Nicky's question, that I vowed never to have to ask, "why not today?" Life would be lived to the full; days would be filled; moments would not be wasted, because moments are all we have. Philip Larkin understood the need to use wisely the days.  He wrote a poem called , "Days".
What are days for?
Days are where we live.
They come, they wake us
Time and time over.
They are to be happy in:
Where can we live but days?

Ah, solving that question
Brings the priest and the doctor
In their long coats
Running over the fields.
Where can we live but days? Perhaps the doctor has an answer because I have heard none from the priest. Of course, my 1997 resolution slipped and countless hours of time were wasted, there would have been plenty of occasions when Nicky would have asked, "why not today?"
Nicky's voice is a good conscience, "why not today?" Indeed, Nicky, why not? Today was a day well used.