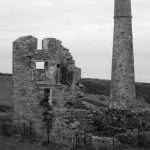 BBC television's "Poldark" series might make one wonder about the nature of a society that allowed extreme poverty to endure alongside comfortable affluence. Against the late-Eighteenth Century background of revolutionary changes in America and the coming revolution in France, were there not people people asking questions about justice in England? Of course there were, the years that followed would be years of political ferment, but if one lived in a remote rural parish, where might one hear of demands for change, demands for fairness?
Of course, if one went along to church on a Sunday, one might hear readings from Scripture. Perhaps the prophet Malachi might occasionally have been read by parsons in churches in the Cornwall of Poldark's time. In the King James Version of the Bible that would have been read in those churches, Chapter 3 Verse 5 of Malachi has a warning from God:
"And I will come near to you to judgment; and I will be a swift witness against the sorcerers, and against the adulterers, and against false swearers, and against those that oppress the hireling in his wages, the widow, and the fatherless, and that turn aside the stranger from his right, and fear not me, saith the Lord of hosts."
The words of God in the prophets are fairly straightforward – condemnation of religious charlatans, people who break up families, and perjurers, and condemnation of those who engage in economic oppression. Even in the language of Jacobean England, it is clear that this God is intolerant of injustice, that God will act against those who mistreat the poor.
Of course, such a God did not correspond with the wishes of the political and religious establishment, so he was ignored. The church wanted nothing to do with the sort of society spelt out in Scripture so made God into a God of personal things. If an Eighteenth Century parson had read those lines from Malachi he would have made much of the church's teaching on sexual morality – adulterers would be subject to judgement, and he would have made barely a mention of the oppression of workers, widows, orphans and foreigners.
The tradition of selectively reading Scripture, a tradition that has led to the marginalization of the church in England, has continued in Ireland. In the Church of Ireland, political interventions are frequent; the chair of the Church and Society Commission spoke out on gay marriage and cake icing, while the Bishop of Kilmore has declared his opposition to marriage equality.  However, in keeping with Eighteenth Century tradition, that political interference should only be about "private" matters and should not be about "public" policy, neither the Church and Society Commission nor any of the bishops were prepared to speak out against those "that oppress the hireling in his wages" and offer a word of support to the Dunnes workers last Thursday.
Should the BBC want characters of an antediluvian disposition to appear as bit part parsons in future period dramas, there would be no shortage of candidates.