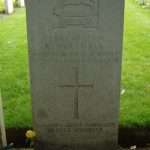 The bag is packed; the boarding card printed; everything is checked and checked again. The 6.40 am flight to Brussels approaches and with it another group visit to the Western Front. The trips have become about stories; a hundred years on, the grand strategies and the battlefield tactics are of no consequence for other than the military historians, what matters is the individual people, and their stories.
I remember being in France, some twenty years ago now, and sitting in the middle of a little French village on a fine August evening. The village wasn't very big, two streets and a square, but it was a beautiful place; the buildings were very old and built from soft yellow sandstone. It was a perfect place. The bench on which we sat faced the war memorial: a large granite rock, it was surrounded by white stone chippings and a black post and chain fence; everything looked as fresh as if it had been placed there the day before. There were nine names inscribed on the stone, "Mort pour la France". It was hard to imagine nine men taken away from this little village, there can't have been many young men left.
The next couple of days, I noticed a lot of memorials. Aswe walked down the street of a nearby town, there was a plaque in memory of a resistance fighter who had been killed by the Nazis; further down the street, on the wall of another house, there was a plaque announcing that a man who had lived there had been deported by the Nazis and had died in Dachau concentration camp.
There was a feeling in France that remembrance was a deeply personal thing. This feeling came home most strongly when driving down a country road. At the roadside there was a small, plain stone; it stated baldly that on this spot two young men had been shot dead by Nazi soldiers. I tried to imagine what it would have been like to have been the father of one of those men, passing up and down that road, thinking of all the hopes there had been for the future, the man's heart must have been broken.
When it comes to the Western Front, an inestimable number of hearts must have been broken by the Great War, the war to end all wars, but in the political wrangling of arguments concerning the significance of events, the broken hearts are of no account.
Remembrance is a very personal thing. Remembering things personally means we can share commemorations without the quagmire of politics.