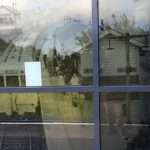 Bidston station is not the most impressive of places – an island platform, served by Mersey Rail trains to the Wirral, where it is possible to change for trains to North Wales. Maybe there was a time when one could have caught a through train from Liverpool to Wrexham, maybe the Welsh trains that now terminate at Bidston once went on into the city.
Bidston station has undergone renovation in recent times, a renovation that includes an evocation of bygone years. The passenger waiting room is enclosed with glass walls on which are etched photographs of the station in past times. Since the days of the pictures, the physical appearance of the station has not changed so much, the greatest changes have been in the way people dress; we have become much more informal.
Among those pictured on the platform are two men wearing hats, a custom that seemed to die rapidly in the post-war years. Even in the 1960s, it was not so unusual to see middle aged men wearing trilbies and in London the bowler was still worn by older men in the city. Among women, hat wearing persisted longer, maybe because they could still be a fashion accessory; maybe because in times when church attendance was more common, hats were still worn and it would have been a pity to have bought a hat just for the odd occasion; maybe because they women are simply more practical and there were times when wearing a hat was a sensible thing to do. Had the photographs chosen for the etching been ten years more recent, would there have been any hats at all? By the 1970s, hats were almost gone. Bidston station was busy today, it being 3rd June, there was not even a beanie hat in sight. Why did we wear hats for so long and why did they die such a sudden death?
Together with the hats, the formality of people's dress is noticeable. Women wore dresses with overcoats, men wore suits; until the 1960s, even the younger men wore suits. This being Merseyside, there would be plenty of older people who would remember The Beatles in their early days: four young men in dark suits with white shirts and unexceptional ties. The suits endured longer than the hats, but by the 1970s, what young man would have considered going out dressed in a suit?
The thought occurs that the artefacts of the 20th Century are not the buildings or the technology, but the people who used them.