Standing where Percy stood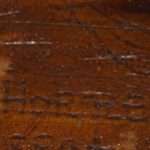 Tomorrow morning we fly to France. On Wednesday at the Somme, I shall lead the remembrance services at the Ulster Tower, the memorial to the 36th (Ulster) Division at Thiepval, and at Guillemont, at the memorial cross to the 16th (Irish) Division. It is a culmination of fifteen years of interest in what the Western Front really meant, an interest that was prompted by one man.
Percy Horner attended Saint Matthias' Church, the church where I spent eleven years as rector, where he sat in the back row of the gallery one space in from the end of the pew.  Perhaps his parents sat together in the pew in front of him, leaving a boy, bored by the staid Church of Ireland services, to make his mark upon the woodwork, presumably with the point of a pen knife.
The outbreak of war in 1914 changed many things, but it did not need to change Percy's life. There was no conscription in Ireland and no compulsion for Percy to leave his carpentry and the beauty of Killiney Bay and Hill for the hell of the Western Front.
Who knows what goes on in the head of teenage boys?  Perhaps Percy and his friend David Goodwin were influenced by David's older brother, Michael, who was three years older, but they travelled to Ulster to enlist with the Inniskilling Fusiliers instead of enlisting with a regiment in Dublin.  Maybe there was religious or political motivation in going to be part of Lord Carson's 36th (Ulster) Division, maybe not.  Whether it was through Protestant or Unionist inclinations, or through personal whim or family connections, their journey north meant that they enlisted with the 9th Battalion of the Inniskilling Fusiliers.
Training at Clandeboye in Co Down and then at training camps in Sussex, Percy's battalion travelled to France in 1916 in preparation for the Big Push.  At 7.30 on 1st July, a bright summer's morning, Percy and his friends, from one of the most beautiful places in Ireland, went "over the top"; they did not even need to be there.  It was their first and their last day of combat.
David and Michael Goodwin have graves in the tranquil Mill Road cemetery at Thiepval; visit it now and there is no sense in those rolling hills and wooded valleys of the hell there once had been.  Percy has no grave;  his body was never found.  His name is amongst the seventy thousand whose names are recorded on the arch at Thiepval, each without a grave.
Did Percy think of walking on Killiney beach as he stood there on that 1st July morning? Did he remember the trains steaming northwards to the city and southwards to Bray?  Did he look at the scarred landscape around him and think of the view from his garden to Great Sugar Loaf Mountain? Did he think of walking up the hill to school, or down Church Road on a Sunday as his platoon moved along the trenches?
On Wednesday at 2.30 pm, I will think of Percy.