Sermon for Sunday, 2nd August 2015 (Trinity 9/Pentecost 10)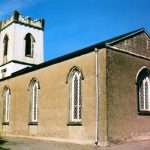 "Do not work for the food that perishes, but for the food that endures for eternal life" John 6:27
We need food for our bodies, we need food for our minds, and we need food for our souls.
The Feeding of the Five Thousand was Jesus' response to people's need for food for their bodies: "you ate your fill of the loaves", he says in Saint John Chapter 6 Verse 26. In the time of Moses, when the people were in the wilderness, God responds to their hunger by sending them food from heaven, the people remind Jesus, in Verse 31, "Our ancestors ate the manna in the wilderness; as it is written, 'He gave them bread from heaven to eat.'" The story of Jesus is a story in which God shows his care for the practical, everyday needs of people, whether in feeding crowds, healing the sick, bringing a catch of fish, or raising those who were dead, God cares about the things necessary for our physical lives.
We live in a world that is filled with everything we could possibly need, we have more than enough to feed every mouth in the world. The United Nations Food and Agriculture organization says that a billion tonnes of food are thrown away every year, an amount of food far greater than would be needed to ensure that every person in the world was properly fed. It should make Christians ask questions about the way we use what God has given us. When Jesus feeds the Five Thousand, every person was well fed, when we have a world where there is enough to make sure everyone is well fed, what does it say about our faith when we leave people to go hungry by simply wasting what would have fed them? "You ate your fill of loaves", says Jesus to the crowd. When he looks at our world, might he not ask us why so many people have not been able to eat their fill?
We need for our bodies and we need food for our minds. Jesus criticizes the crowd because they have not used their minds, because they have not thought about the things they have seen. In Verse 26, he says, "Very truly, I tell you, you are looking for me, not because you saw signs." They are looking for him because they have shared in the loaves and the fish, but they have not thought about the meaning of what has happened, they have not seen the signs. They realize that they have missed what they were meant to have seen, so they ask Jesus in Verse 28, "What must we do to perform the works of God?" The answer is straightforward, "This is the work of God, that you believe in him whom he has sent." Jesus is saying to them to see and believe, but they still do not believe, and so, in Verse 30, we read, "So they said to him, 'What sign are you going to give us then, so that we may see it and believe you? What work are you performing?'" What more did they need for their minds to be convinced? Jesus has fed the Five Thousand, but they are still asking for a sign.
We live in a world where there is much to fill the mind. We live in a world filled with signs of God, filled with things that point to someone infinitely greater than our humanity, but it is our choice whether we see those signs. If we believe, then we will find much to strengthen that faith, if, like the crowd, we simply ask for another sign and then another sign, then we turn away from anything that might fill us.
Food for the body, food for the mind, and food for the soul: Jesus says it is food for the soul that really matters. "Do not work for the food that perishes, but for the food that endures for eternal life", he tells the crowd in Verse 27.  Jesus tells them that the food for their bodies has come from God, but true food is something much greater, it doesn't just sustain their bodily life, it brings spiritual life. In Verses 32-33, we read, "Then Jesus said to them, 'Very truly, I tell you, it was not Moses who gave you the bread from heaven, but it is my Father who gives you the true bread from heaven. For the bread of God is that which comes down from heaven and gives life to the world.'" Have the crowd really understood him? They say to him "Sir, give us this bread always." What would they make of his response to them in Verse 35, "I am the bread of life. Whoever comes to me will never be hungry, and whoever believes in me will never be thirsty." Jesus is the food for the soul, but if people will not use their minds to see the signs, how will they see him as the one who fills the inner hunger and thirst?
We can sometimes see Christian faith as something unworldly, something purely spiritual, we can retreat from the world and follow a religion that is private and spiritual, but Jesus never speaks in such terms, he talks about himself as one who gives life to the world, not as one who withdraws from it. If our souls have been fed by him, then he expects us to go out and engage with his world. Because we have received his generosity, his grace, he expects us to bring generosity and grace into our world, he expects us to be people who ensure that no-one goes hungry, in body or in mind. If he is the one who gives life to the world, and we are not people who are bringing life to others, then how can we say we are his people? Receiving food for our souls, we must share what we have.
Food for our bodies, food for our minds, food for our souls: we cannot receive such food and neglect the life of the world.