Please, let it all mean something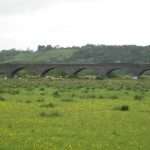 The trees on either side of the road were meeting above it, even the passage of numerous lorries had not impeded the progress of nature. Perhaps the county council will decide that the branches should be cut back, perhaps not, the road passes under a railway bridge so is height restricted.
A tunnel of trees would have been a delight in childhood years, it would have prompted imaginings of what a tunnel might signify, perhaps a railway overhead, perhaps an entry to a great castle, perhaps an opening to adventure. Perhaps adventure would have been an aspiration too far, significance would have been enough, that the gentle countryside that lay all around was a place that mattered, that our villages and towns would be places that were known, that our lives were not passed in an insignificant anonymity. Of course, the aspirations were never fulfilled, a writer described the small town near which we lived as a place that had entered a "humdrum retirement. It seemed a disappointment, that hopes for our community were past before we had even an opportunity to start.
Perhaps it's about a struggle with mortality, the desire for significance about a desire to be somewhere important, to participate in something notable, a desire to be part of a story that endures beyond brief years.
Perhaps that explains much of contemporary society. A search for significance has come to fill our culture, the media and especially the social media are filled with people who feel that to have their name known, or their picture recognized, is to enter a different world, a world where one is someone who "matters", a world where there is "meaning". Was it Andy Warhol who envisaged a life where everyone would be "famous for fifteen minutes?"
Perhaps fifteen minutes of fame is like a tunnel of trees, enough to allow one to imagine that it is something different, that it all leads somewhere; of course, it doesn't, but it is enough to sustain a hope of significance.
News came last night that a friend had retired, at the age of fifty-five. Reaching fifty-five in the autumn, there is a sense of having reached a point where the careers of others are complete, but still living in the hope that the trees are an entrance to something new and more exciting. Retirement could be still more than twenty years away, church rules permit continuing until the end of the quarter in which one reaches one's seventy-fifth birthday, 31st December 2035. Perhaps along that road there will be a tunnel to adventure.