A new Premier League season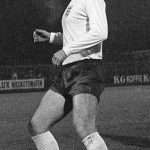 "A tackle worthy of the late Bobby Moore", said Ron Jones, Today FM's commentator on Manchester United versus Tottenham Hostpur, the opening match of the new Premier League season, "not that many listeners will remember Bobby Moore making tackles".
I remembered Bobby Moore. Until May 1970 I had taken pride in the claret and blue colours of West Ham United, not that you ever knew what colours they were playing in on a block and white television. West Ham had seemed an obvious choice they had the Bobby Moore who was the England captain, and the 1966 World Cup hero, Geoff Hurst.  But West Ham did not look likely to win anything and, in 1970, I was tempted away by Chelsea, who were in the FA Cup final.
There was a brief period of glory: they won the FA Cup, the following year they won the European Cup Winners' Cup, and the following year they reached the League Cup final, and then the rot set in. A quarter of a century of disappointment and abuse was to follow. Relegation in 1975 and 1979, a struggle to stay in the Second Division in 1983, sometimes it was easier to talk about cricket.
I read "Fever Pitch" by Nick Hornby. It's his account of years following Arsenal. In it one encounters the sort of people who take days of their already brief annual holidays in order to spend a large part of their weekly wage travelling from London to places like Plymouth to watch Arsenal play midweek cup matches. It did not seem so strange.
I remember travelling to Chelsea matches when I was a sixth-former in the late 1970s. To buy a return ticket from Castle Cary in Somerset to London, to travel by tube from Paddington to Fulham Broadway, to buy lunch in a pub, to get into the match, and to buy egg and chips for tea at Paddington station, cost just under £10. It sounds a laughable sum of money, except it cost me most of what I earned in a month. I had a job pumping petrol from 8 till 1 on Sunday mornings earning 60p an hour, £12 a month – £10 in a day was a big commitment.
But did it really matter, did any of it make any difference? I have seen people break down on tears at matches, I have seen people taken away in cardiac ambulances, I have seen horribly vicious fights take place, about what? The late great Bill Shankly, manager of Liverpool Football Club, was once asked if football was a matter of life and death, "no", he said, "it's far more important than that". Bill Shankly was a marvellous man and manager, but his perception of reality was slightly askew. The result of a football match made not one jot of difference to whether someone had a home to live in, whether they had food on the table, whether they had treatment for an illness, whether it was safe for their children to walk the streets.
Yet, at the start of a new season, there is a sense of excitement – and, for the first time in years, I even entered a team in the Daily Telegraph's Fantasy Football League.