Announcements of confusion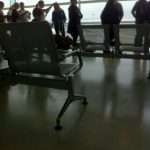 Was it a Channel 4 film? It seems a long, long time ago. A television film broadcast in that dead time between Christmas and New Year, "Artemis 81". Nothing of it now remains in the memory, except the main character standing at the concourse of a cavernous railway station and announcements being made. Perhaps they were in a Scandinavian language, perhaps they were in no language at all, but for a monoglot English speaker they conveyed a sense of there being journeys, events, changes of which there was no comprehension. Perhaps the intention was to create a sense of disorientation, the character in the film stood there in a sense of bewilderment, perhaps the viewer was meant to feel similarly confused.
The film still resurfaces in the conscience at those moments when announcements convey nothing more than a sense that one is surrounded by journeying, by people with purpose, but that one is not part of their progress. Walking through Dublin Airport as lines of passengers formed at departure gates, the background noise of the announcements provided the punctuation of the story. Barely audible, notice would be given of flights boarding and gates closing and final calls being made for missing passengers, but hardly a sentence could be heard in its entirety, there was an awareness of things happening, but no clarity. Stopping to look at a monitor, the screen advised that the flight would depart from Gate 109 and tersely instructed, "Go to Gate." The background noise continued, words of no meaning to anyone except those who should hear them.
Spending much time each month visiting those suffering varying degrees of dementia, there was suddenly an awareness that this is what it might be like for those whose memory is beginning to slip, for those whose familiarity with words and people and places they have known everyday has begun to tear, leaving widening holes in their capacity to recognise and respond. To stand in an airport feeling a flight must be reached, but neither knowing in which direction to go nor understanding any of the directions given, would be a frightening prospect. To be surrounded by people giving advice slowly and loudly, but in words that had no meaning would be intimidating, frightening, upsetting.
At least when travelling, whether from an airport in 2015, or from the railway station in Artemis 81, there is a sense that one might escape, that a flight or a train might be found to take one to a place that is familiar, to a place where words might be understood, but what if one was in a world where there was no escape?
Sitting in a doctor's waiting room on Monday, there was a man who came in and sat down. Strong and healthy in appearance, an acquaintance saw him and asked him what had brought him to the surgery. He declared, in the hearing of the dozen or so people in the room, "I am beginning to lose my memory." The response was silence, what was there that anyone could have said? It would have been easier if he had said he had cancer, or heart disease, where there is some hope of recovery. What inexorable process awaited the man?
It was a relief to escape the announcements, to move out of the place of inaudible words, the next visit to a dementia sufferer will be seen in a new light.