Making humanity redundant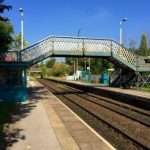 Once picturesque, Hawarden railway station has become down at heel, the paint on the bridge is chipped and peeling, the unused sections of the platforms are overgrown with weeds. Hawarden station is unmanned, the number of passengers would not warrant a ticket office; two people boarded the hourly train toward Liverpool, three got off it. A notice advises people that they should buy their ticket from the guard on the train. It was hard to imagine what the station might have once been like, would there have been a booking office with a clerk dispensing first and third class tickets? Would there have been a porter to assist with luggage in those days before everyone had a motor car to transport everything they required? Would there have been a station master overseeing the daily life of a station that would once have been at the heart of the local community? Hawarden station has become a lonely place, tucked away from the street and behind new houses, a reminder that technological progress, in the form of the motor car, has changed the way we live, made us individuals rather than part of some bigger process.
Technology has gradually dispensed with the need for workers. Unmanned stations could be followed by unmanned trains. Perhaps, like the trams in many cities, there will be an assumption that most people are honest and the trains will be open to anyone to board, only random checks being carried out to verify that the required tickets have been bought at station vending machines. And why have drivers? Computerised unmanned trains are already used on some city rail systems, that they have not become more widespread probably has more to do with human fear than with technological capacity.
Like agriculture, where mechanisation increasingly eliminates the need for human participation in once labour intensive activities like milking and harvesting, railways are becoming places with very expensive capital inputs and a shrinking place for labour. But where does the process end? Where do we say that there should be a balance between "efficiency" on one hand and human dignity on the other? Do we no longer believe that everyone should have the opportunity of fulfilling employment for which they are paid a wage that allows them to aspire to having a family and a home of their own? Do we no longer believe that a healthy society is one where everyone has the chance to progress? What is going to happen if the current process continues, what happens if the benefits of technology only accrue to a small number of owners, while the rest of the population is left with unskilled, low paid work, or no work at all?
The public discourse seems muted, politicians arguing about who should pay tax and how much tax they should pay, and few questions asked or answered about how one creates a society where everyone has a stake and where there is no need to hide behind higher and higher walls or spend more and more upon ever more sophisticated alarm systems. "Efficiency" has become a necessity for economic survival but also a smoke screen behind which those who have the most gain even more. The failure of the Luddite movement of the Nineteenth Century showed that one cannot impede the progress of technology, but, unless a just way of ordering society is discerned, the days of riots will return.