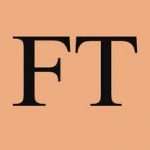 There is a toilet paper advertisement that says paper has a great future. Apart from its use in the toilet, however, the advertisement does imply that, in every other area, paper is redundant, that electronic devices have superseded printed pages. Having been online since February 1997, I suspect I should be one of those who has relegated paper to a lavatorial function, but an attachment to newsprint and bound text remains.
The weekend was always something marked by the purchase of three newspapers, the Irish Times, the Daily Telegraph and the Financial Times, now only the Daily Telegraph comes in hard copy. The good lady of the house pays €16 a month for online access to the Irish Times, while for €149 a year I get an online FT subscription. Of course, there is much to be said for taking my iPhone 6 from my pocket (see, I am not a troglodyte reluctant to adopt the ways of the 21st Century), and accessing the latest FT news at any time on whatever day it might be, but something has been lost.
There was a delight in buying the Saturday edition of the Financial Times, its pink paper gave it an exotic feel, sanguine journalism in the anaemic world of the other newspapers. It came in sections: there was a news section, a money section, a weekend supplement, an arts supplement, an excellent weekly magazine, and once a month, a glossy supplement called "How to Spend It." It might take a week or more to read, one could happily read the supplements long after their original publication because the content was timeless.
Of course, it is possible to read the same material online, and the archive offers access to items that are months or years old. The website offers a search facility that can produce results that one might not even have imagined. But reading online is just not the same.
Reading items from a broadsheet newspaper on a mobile or tablet obviously does not offer a comparable experience to having the newspaper in one's hands, but neither do a laptop or a desktop. I miss the tactile nature of the Saturday FT; the crispness of the paper, the colour of the photographs, the opportunity to survey double page spreads, the chance to cut out pieces that are interesting. There is something more than that, though. Printed pages are more reliable, they are permanent, they cannot be changed at the whim of an online editor, so they must well researched, credible, defensible. A publisher prepared to commit words to paper is happy to stand over those words.
Paper has a great future. When the days of retirement come and there is time to take a week to read a newspaper, I hope the FT is still being printed.