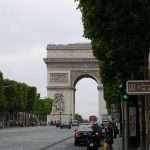 Reading Leo Tolstoy's War and Peace against the background of the events of the past weekend, the thoughts of Pierre Bezukhov find a frequent resonance in the hundred and fifty years ago since Tolstoy was writing:
"The Spaniards, through the Catholic clergy, offer praise to God for their victory over the French on the fourteenth of June, and the French, also through the Catholic clergy, offer praise because on that same fourteenth of June they defeated the Spaniards . . . We all profess the Christian law of forgiveness of injuries and love of our neighbors, the law in honour of which we have built in Moscow forty times forty churches – but yesterday a deserter was knouted to death and a minister of that same law of love and forgiveness, a priest, gave the soldier a cross to kiss before his execution." So thought Pierre, and the whole of this general deception which everyone accepts, accustomed as he was to it, astonished him each time as if it were something new. "I understand the deception and confusion," he thought, "but how am I to tell them all that I see? I have tried, and have always found that they too in the depths of their souls understand it as I do, and only try not to see it. So it appears that it must be so!"
Had Tolstoy been writing in Western Europe rather than in Russia, he might have commented on the centuries old tradition of claiming god was on one's side. The Sixteenth and Seventeenth Century wars of religion between Protestant and Catholic rulers crippled Europe and brought only misery to millions of the poor. It is a century since the Great War, a war that depended on the demonisation of the enemy, otherwise its pointlessness would have quickly become apparent to anyone not seized by an insane appetite for blowing working men to pieces. Like the Spaniards and the French in War and Peace, men of both sides were told that they were fighting on the side of God against the forces of evil, German army belt buckles were even inscribed with the words, "God with us."
Modern liberalism emerged in Protestant countries that realized that where there were competing truth claims, those claims must belong to the private realm if there is to be peace in the public sphere of life. If there is anything to be learned from those years, it is that the very values that have underpinned Western democracy cannot be promoted by clashes of religious ideologies.
Pierre Bezukhov understood the "deception and confusion," that it would be a strange god who endorsed killing in the name of love. How might he have responded to the news stories of these past days?