Sermon for Sunday, 29th November 2015 (First Sunday of Advent)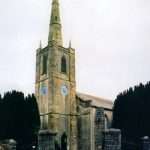 "Be alert." Luke 21:36
"Be alert", says Jesus and "alert" is a word that we might use as an acrostic to think about today's Gospel reading, A-L-E-R-T standing for, "Advent", "Look", "Earth", "Raise" and "Trap."
Advent: In the overwhelming commercialism of this time of year, it is easy to forget that the season of Advent that begins today is not focussed on preparing for Christmas, instead it is a time to remember that it was in  "the time of this mortal life" that "Jesus Christ came to us in great humility" and "that on the last day . . . he shall come again in his glorious majesty to judge the living and the dead." To talk of such things can bring odd reactions, people thinking that such thinking is not part of their tradition, that the idea of Jesus returning is only something for those whom they would regard as religious zealots, that it is no more than an optional belief for Christians, yet every time we say the Creed we declare a belief that he will come again to "judge the living and the dead." Are the odd people not those who say that they believe what they say they believe every Sunday, but those who say the words every week, but then say that they do not believe them? If we do not believe in the advent of Christ, if we do not believe in the coming of his kingdom, then is our faith purely about the here and now? And if our faith is only about the here and now, then why do we believe at all?
Look: "Look at the fig tree and all the trees," says Jesus in Saint Luke Chapter 21 Verse 29. Saint Luke describes Jesus' words as a parable, a way of teaching people profound truths in ways they could understand. Jesus is telling them that the signs of his coming Kingdom are as discernible as the leaves on the trees changing with the seasons. Every time we say the Lord's Prayer, we pray for the coming of that Kingdom, but would we even know what it looked like? Jesus says that it is as obvious as leaves sprouting on the trees. Just as there are now, there were probably many people in the time of Jesus who hardly noticed the passing of the seasons, people had to look if they were to see the signs of the seasons and they must similarly look for the signs of the Kingdom. Do we look around us to see the presence of that Kingdom?
Earth: In Verse 25, Jesus says, "There will be signs in the sun, the moon, and the stars, and on the earth distress among nations confused by the roaring of the sea and the waves;" in Verse 33, we declares, "Heaven and earth will pass away, but my words will not pass away;"and in Verse 35 he warns, "For it will come upon all who live on the face of the whole earth." God is not a private god, he is not a petty god, he is not a god who concerns only those who believe in him. Jesus says that God is a cosmic God, a God who is out there and whose presence is powerful. "Let the whole earth stand in awe of him," says Psalm 33 Verse 8; Jesus is giving his listeners warning that this is what God is like. Jesus warns that the whole earth will be filled with this powerful presence. Do we have faith in such a God? Do we often make try to make God into our own personal god and fail to see him as he is? If the God in whom we believe is the God who is over all the Earth, how much different should our faith be?
Raise: Jesus has said in Verse 26, "People will faint from fear and foreboding of what is coming upon the world, for the powers of the heavens will be shaken," but his followers are not to be worried, because, in Verse 27, "they will see 'the Son of Man coming in a cloud' with power and great glory." So in Verse 28, Jesus encourages his followers, "Now when these things begin to take place, stand up and raise your heads, because your redemption is drawing near." He encourages his followers to be different from the mood and the culture of the time, they are to be confident enough to raise up their heads when everyone else is cowed with fear and apprehension. Have we confidence to be people who stand and raise up our heads? Have we confidence to stand against the spirits of consumerism and materialism in our own time and look for the redemption, the freedom, that comes with our faith in Jesus?
Trap: Jesus is concerned that his followers will not have the confidence that he encourages, that they will get so caught up with this world that they will be trapped. In Verse 34, he says, "Be on guard so that your hearts are not weighed down with dissipation and drunkenness and the worries of this life, and that day does not catch you unexpectedly, like a trap." People who have had advent, the coming of Jesus, as part of their faith, people who have been looking for the coming of his Kingdom, people who have acknowledged God as Lord of all the Earth, people who have raised their heads in faith, these people will not be trapped, because they know these things are coming. Are there times when we feel as though we are trapped? Are there times when everything around us  so weighs us down that it becomes hard to hold on to our faith? "Be on guard," says Jesus to us.
Advent, look, Earth, raise, trap: be alert at all times.