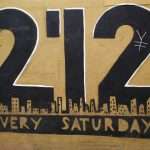 Sunday lunchtime seems an opportunity for local radio stations to play old records. Perhaps it would be hard to compete with the national broadcasters and their high profile line ups on Sunday current affairs shows, perhaps younger audiences are still in bed or out engaged in leisure activities, but their seems a perception that the schedule can accommodate music for middle aged people. Music from the Sixties, Seventies and Eighties filled two hours of a schedule today, tunes instantly identifiable at a distance of four decades.
Despised by the intellectuals, hated by the musical purists, ridiculed by the rock aficionados, disco music featured strongly in the 1970s. Hits from 1979 were among the lunchtime selection, punk rock might have been around for three years, but it had not seen off singers in glittering costumes singing simple lyrics to strongly syncopated music. Disco music was fun, it made one feel happy, it invited participation.
Having two left feet, lacking social graces, shy to an embarrassing extent, my experience of discos was mostly limited to 1979 when a romantic interest gave a reason for putting on the flares. Even the random and unco-ordinated movement that was regarded as "dancing" by disco goers was mostly beyond me; discos were about conversation and laughter punctuated by the odd shuffle around the dance floor when the romantic interest decided there was a good song.
Looking back now, the music was banal, it was repetitive, it was predictable. Looking back now, the critics were reasonable in their assessment. Looking back now, there is not much of the music that has stood the test of time, not many of the bands that are still remembered. While rock musicians from the period might, four decades later,  still sell out stadiums as they go on their world tours, it is difficult to imagine many of the disco groups would fill many venues, and even more difficult to imagine that they would dress as they did in the 1970s. Nevertheless, there was something there that still gives them airtime on a bleakly grey damp December day in 2015.
Prior to 1979, discos were something other people attended; after 1979, depression came in like a bank of dark clouds and inhibited all social life; but for the months of the year that began with Britain's winter of discontent and which marked the election of Margaret Thatcher, there were evenings when all the politics and all the bad news in the world could be closed out by a wall of music. Discos were not such a bad thing.