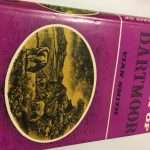 The great bulk of Dartmoor loomed up to the left of the road to Okehampton, the low winter sun throwing the hills into a very dark relief. Were it not January and were time not so limited by the demands of work, the temptation would have been strong to have driven south across the moor; to have found the familiar places, Manaton and Widecombe; to have walked the familiar paths Jay's Grave, Hound Tor, Haytor. Had there ever been the opportunity to spend an unexpected fortune, a lease on a Dartmoor cottage would have been a dream; like the character in Sally Vickers' novel, Mr Golightly's Holiday, weeks and months could have been spent in reflection and inactivity.
Buying a second-hand copy of Vian Smith's 1966 book Portrait of Dartmoor, lines from the chapter "Rambling the Moor" evoke memories of Sunday afternoons at our boarding school when the strict evangelical regime allowed nothing much to do and aimless walks were a way of passing the time.
"There is no "best time" for those who like to walk the moor. some prefer February when the swayling fires are burning and the hillsides are turning black. Or May, when the colours have come and moorland stallions nucker their cries to scattered mares. Or summer, when sheep scratch shelter in the earth, panting in the shade of overhanging banks. Or autumn, when the colours are rusting; or winter when rain has an iron sting and the wind is strong enough to lean on.

When you walk the moor matters less than how you walk it. There is a wrong way and I learned it in 1937; when my colleagues strode grimly, compass in one hand, watch in the other, making Cranmere Pool a destination as though to walk without destination is to wander without motive. The way to walk Dartmoor is to walk nowhere, without a watch or any regard for time; standing and staring and listening to the larks.
Smith conjures a vision of absolute contentment. There are clergy who have been granted three months of sabbatical leave to pursue all sorts of esoteric studies, to conduct research into a wide and diverse range of subjects, but none seem to have offered walking on Dartmoor as their subject. Being ordained thirty years this year and never having taken sabbatical leave, there is a temptation to apply to the bishop for time for reflection, but what would sound convincing as a topic? Equine studies on the Devon uplands? The flora of Dartmoor? The spirituality of bronze age standing stones? The suggestion of walking nowhere without regard for time, the proposal to just stand and stare, would hardly convince him.