Sermon for Sunday, 31st January 2016 (Fourth Sunday after the Epiphany)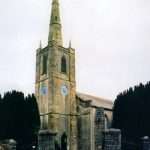 "This child is destined for the falling and the rising of many" Luke 2:34
The story of the encounter of Simeon with the infant Jesus in the Temple when Jesus was forty days old is a story that gives us five words beginning with the letter "r" that can help us in our thinking: righteous, rested, revealed, revelation, and rising.
"Righteous" is the first word. Saint Luke Chapter 2 Verse 25 tells us, "Now there was a man in Jerusalem whose name was Simeon; this man was righteous and devout, looking forward to the consolation of Israel." Simeon was a righteous man, he fulfilled all the religious laws, he served in the Temple, he devoted his life to keeping every rule and every regulation, few could have been more righteous than Simeon, but Simeon realizes that his religious righteousness is not enough, that he must wait for a moment that will surpass all he has known, that if he waits long enough, he will see with his own eyes the presence of God, he will see the Messiah.
Simeon should be a warning to us that rules and regulations are not sufficient. We might keep every detail of every rule, we might be conscientious in observing every provision of every regulation, we might be thought "righteous" by other people in the way that Simeon was thought "righteous" by those who knew him, and Simeon would tell us that we need still to look for God's presence, we still need to look for the Messiah. Without his presence, our religion is pointless.
"Rested" is the second word. Verse 25 tells us about Simeon and then goes on, "and the Holy Spirit rested on him." Simeon has a personal sense of God's presence. The Holy Spirit has been present in God's Creation since the beginning of time and in the Old Testament we see men such as Elijah and Elisha who are filled with the spirit. Saint Luke's readers would have been familiar with the idea of the Holy Spirit resting upon someone and there would have been few more worthy than the faithful Simeon.
Since the Day of Pentecost, the Holy Spirit has been there for all of us; it is possible for the Holy Spirit to rest on any of us in the way that the Spirit rested on Simeon, but do we have the confidence that God could be with us in such a powerful way? We tend to think, "I am not religious enough" for such a thing to happen, but that is the point, none of us can be "religious" enough, it is the Holy Spirit who can change us, it is the Holy Spirit who can make us into the people we should be.
"Revealed" is the third word. Verse 26 says, "It had been revealed to him by the Holy Spirit that he would not see death before he had seen the Lord's Messiah." How had it been revealed to him? We are not told, we do not know. He could not have read in Scripture that he Simeon would live until he saw infant Jesus, and it seems unlikely any rabbi would have told him such a thing. Through his own prayers, it seems Simeon learned of what God had planned, though his own relationship with God he knew that his long wait would be worthwhile.
"Revealed" is a word that is a challenge to us: are we close enough tog God that he might say something directly to us? Sometimes in our own lives we need to take decisions, we need to think about the way forward, and we might feel that we should look to God for guidance, that we should look for some sign as to what we should do, some sign about the best future to pursue. But how can God say anything to us, give us any sign regarding our decision, if we are far from him? We need to be near God to hear his voice, to be near him so that things might be revealed to us.
Righteous, rested, revealed, our fourth word is "revelation." Verse 32 is part of the song that Simeon sings when he takes the infant Jesus in his arms, when he declares that Jesus will be, "a light for revelation to the Gentiles and for glory to your people Israel." The "revelation to the Gentiles" would mean that all people could become part of God's people, that membership would no longer be a matter of birth, but a matter of choice. There would have been many among Simeon's colleagues and friends who would not have liked to hear such words.
What does the "revelation to the Gentiles" mean to us? The church in Jesus' time was to be a group of people who chose to follow Jesus, the church in our own time is meant to be a group of people who have made a choice, a group of people who are brought together not by the families into which they were born, but by their own decision to be friends of Jesus. The revelation to the Gentiles meant they could choose to believe for themselves; no-one else can believe for us, believing or not believing is a choice we must make.
Our final letter "r" is "rising." In Verse 34, we read, "Then Simeon blessed them and said to his mother Mary, 'This child is destined for the falling and the rising of many in Israel, and to be a sign that will be opposed." Faith would no longer be about the laws or the traditions or the customs or the teachings, faith would be about the response of people to this person Jesus. Some would turn away from him, some would not want to know and in rejecting him would reject God himself; others would accept Jesus and in doing so would be raised to eternal life.
Simeon's words are troubling for us today because, while we are happy to accept the idea of people "rising" we are uneasy with the idea of them "falling", but if we have the gift of freewill, then both outcomes must be possible. A God who raised everyone regardless would not be a God who respected our decision to believe in Jesus or to reject him. Faith is about us having the possibility to say "yes" or "no," faith would become meaningless if in the end it counted for nothing. We have to ask, does Jesus bring us falling or rising?
Righteous, rested, revealed, revelation, and rising: five words telling us of Simeon and asking us about ourselves.