Going there from somewhere else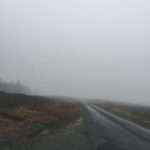 It was one of those days when the apocryphal story of a man who stopped at a country crossroads and asked directions might have been recounted, "If I was going there, sir, I wouldn't be starting from here." Ballinasloe used to be a familiar place, for eight years we had a cottage in the Co Galway village of Oughterard and we would pass through Ballinasloe on our journey from Co Down. I knew how to reach the town when approaching from the North, but I wasn't going there from there.
The obvious journey seemed to be to drive north to the M6 motorway and then west toward Galway. However, Google Maps suggested the road over the Slieve Blooms in a journey that was supposed to be seventy kilometres and take an hour and six minutes. The wisdom of the advice seemed questionable when crossing the open moorland that forms the mountains' high ground. Crossing from Laois to Offaly and descending into the village of Kinnitty, the weather began to improve, and the day brightened.
The route was a straight line, crossing roads between towns, passing through villages unfamiliar to me. Each new place had a fascination of its own, presented views that asked to be photographed. The clock showed that Google's journey time of an hour and six minutes was no more than an aspiration.
Had the progress been faster, on reaching Shannonbridge, the temptation to stop and walk would have been too strong. The power station dominates the landscape as one approaches, a bridge crosses the twin lined narrow gauge railway that once brought fuel to the station. The diesel locomotives that once drew trucks loaded with turf have been superseded by vast mechanical vehicles. A Google search says the railway closed in 2008 and one wonders how much longer the tracks will remain in place. The grey stone-built village is a place where each building could tell its own story. The elegant bridge crossed a River Shannon that was in full flood, perhaps on some summer's day there would be an opportunity to return and walk along the water's side.
Expecting the far side of the river to be Co Galway, it was a surprise to meet signs that welcomed one to Co Roscommon, a county that was not left until reaching the edge of the town of Ballinasloe; Irish county boundaries seem never to have been drawn with any regard for logic.
It was one of those days that would serve as a reminder that the motorways and national road network, that allow us to travel from one place to another in a fraction of the time taken in former ages. leave much of Ireland untouched. It was a reminder that there is always something out there that has not been seen before.