Holy Week Sermons: Good Friday 2016 – The tomb cut in the rock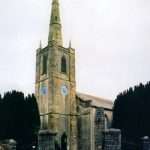 "Then he took it down, wrapped it in linen cloth and placed it in a tomb cut in the rock, one in which no one had yet been laid. Luke 23:53
"A tomb cut in the rock," is the last of the five buildings in our Holy week series. What is there to learn from the tomb?
Joseph of Arimathea is a member of the Jewish Council who had not agreed with the conspiracy against Jesus who comes to Pilate and ask that he might take the body, Saint Luke Chapter 23 Verse 53 says "Then he took it down, wrapped it in linen cloth and placed it in a tomb cut in the rock, one in which no one had yet been laid. Joseph is watched by friends of Jesus. Verse 55 tells us that, "The women who had come with him from Galilee followed, and they saw the tomb and how his body was laid." Saint Mark's account is similar, in Saint Mark Chapter 15 Verse 46, it says, Joseph of Arimathea took the body and "laid it in a tomb that had been hewn out of the rock. He then rolled a stone against the door of the tomb"; Saint Mark names the women as Mary the mother of Jesus and Mary Magdalene. Saint John differs only in saying that Nicodemus, another member of the Jewish Council, joined Joseph in the burial. Saint Matthew adds the important detail about the tomb being guarded. Jesus opponents go to Pilate and in Saint Matthew Chapter 27 Verse 63-64 say, "Sir, we remember what that impostor said while he was still alive, 'After three days I will rise again.'  Therefore command that the tomb be made secure until the third day; otherwise his disciples may go and steal him away, and tell the people, 'He has been raised from the dead', and the last deception would be worse than the first.'" Pilate has wanted nothing to do with the case and there is perhaps a note of weariness in his response in Verse 65, "You have a guard of soldiers; go, make it as secure as you can."  Jesus' opponents put a guard on the tomb and seal the entrance stone.
All four Gospel accounts point to the tomb as somewhere very specific and somewhere very final. There is no vagueness, the burial is carried out by leading members of the Jewish community, it is witnessed by the women, and it is safeguarded by enemies of Jesus. We do not know what passed through the minds of Joseph and Nicodemus; we can only try to imagine the pain felt by Mary and Mary Magdalene; we would find it hard to comprehend the depth of hatred felt towards Jesus by his opponents. The tomb is a focal point for grief and anger and for feelings so dark that we cannot understand them.
If we can try to imagine the disciples on that Friday evening, hiding away for fear of what might happen to them, perhaps we can think about Peter and John. If we think about them and their experiences of Jesus, we can perhaps understand why they were among the first to go to the tomb on that Sunday morning. Perhaps they walked there with expectant hearts after they had had thirty-six hours in which to think.
A significant moment for Peter and John and James, the brother of John, had been the transfiguration of Jesus. Saint Luke Chapter 9 tells of how Jesus took the three of them up a mountain in order to have time to pray. Verses 29-31 say, "And while he was praying, the appearance of his face changed, and his clothes became dazzling white. Suddenly they saw two men, Moses and Elijah, talking to him. They appeared in glory and were speaking of his departure, which he was about to accomplish at Jerusalem." Jesus had stood with Moses and Elijah, the men who represented the Law and the Prophets, and had discussed what would happen. The predictions had come true in what had taken place in Jerusalem. Peter and John would have thought about this conversation, would surely have discussed it among themselves, perhaps shared it with the other disciples. Jesus had said what would happen and perhaps the presence of Moses and Elijah would have told them what might happen next.
Thinking about the tomb of Jesus and thinking about Moses and Elijah, wouldn't their thoughts have turned to the burial of Moses? Moses represented the Law, he represented God's special relationship with his people. Deuteronomy Chapter 34 tells of Moses going up Mount Nebo and the Lord showing him the promised land and telling him he would not cross over into it. Verses 5-6 say, "Then Moses, the servant of the Lord, died there in the land of Moab, at the Lord's command. He was buried in a valley in the land of Moab, opposite Beth-peor, but no one knows his burial place to this day." Moses dies in the Lord's presence and is buried by the Lord and there was no known grave. Not only was there no grave, Peter and John had seen Moses standing with Jesus. Thinking of the death of Moses, would they not have wondered about Jesus being buried in the tomb?
Thinking about the tomb of Jesus, and thinking about Moses and Elijah, wouldn't their thoughts have turned to the end of the life of Elijah? Elijah represents the prophets, those who called God's people to repentance, those who called them back to the Law. Unlike Moses, Elijah has no grave at all. Elijah knows that his time has come, Elisha does not want him to leave, as they walk together, the Second Book of Kings Chapter 2 Verse 11 says,  "a chariot of fire and horses of fire separated the two of them, and Elijah ascended in a whirlwind into heaven."
Moses the Lawgiver had no known grave and they had seen him alive with Jesus; Elijah the prophet had not died and they had seen him with; as Peter and John thought about the tomb, did they think that Jesus would remain there? If Moses and Elijah were alive, could it be possible that Jesus would not rise again?
The tomb is described with a dreadful finality, a cold, dark and empty place. A tomb cut in the rock, solid above, solid all around, solid below, sealed with a great stone to ensure it is impenetrable. But no matter how strong it was, no matter how heavy the stone, no matter how many the guards, Peter and John had been with Jesus at the transfiguration, would they not have expected a moment of wonder?
Early on the first day of the week the women go to the tomb and return with a tale that the tomb is empty and that they had met with angels. The disciples were doubtful. Saint Luke Chapter 24 Verse 11-12 say, "But these words seemed to them an idle tale, and they did not believe them. But Peter got up and ran to the tomb; stooping and looking in, he saw the linen cloths by themselves; then he went home, amazed at what had happened." The tomb has changed from a place of death to a place of amazement; Peter would have imagined Jesus standing with Moses and Elijah. His faith in Jesus had been confirmed, the tomb had not been an end, but a beginning.
For Christians, the grave is never an end, it is just a beginning.