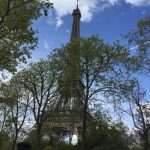 "Walk five minutes down a side street – the best places will always be found there."
His advice, given while he made a bus journey from Dublin to Cavan, was perfect. Walking away from the River Seine and towards the Champ de Mars, a boulangerie was found. Perhaps it was the wrong choice, it was packed, its handful of tables occupied by people eating their lunch. It was only possible to join the queue by standing with the door open. A group of young women, who had emerged from a nearby office, had arrived at the bakery before me. They placed their orders with quick efficiency and stepped back.
"Monsieur?" smiled the lady behind the counter. I asked for a ham and cheese sandwich – a half baguette filled with Emmental cheese and Parisian ham. Not sure what drinks might be available, Orangina seemed a safe choice. Even if there had been somewhere to sit, it was too good a day to be sat inside,"à emporter", I added.
As the prices were rung up, I handed a €20 note in at the till. The sandwich was €3, the can of Orangina, €1.80.
Walking to the Parc du Champ-de-Mars, there was a plentiful choice of green wooden benches. Placing the can beside me, I opened the bag containing the baguette, took a bite, and looked up with a feeling of contentment. Had I chosen a different park, had I gone to a different bench, had I sat facing the other way, I might have missed it.
It had been a perfect morning. Given a day free while family members had been lured by the attractions of Disney, I had found my way to the Musée Marmottan Monet and had spent as long as I wanted sat pondering the lines and colours of Claude Monet. Leaving the museum, there had been a temptation to return to the Metro station, instead I had walked. A long avenue had brought me to the Trocadero, I had crossed the Seine at the Eiffel Tower, and sitting on the bench, there seemed few more perfect places that one might be than sitting in the sunshine pondering one of the most iconic structures in the world. Even the industrious ravens, applying their efforts to tearing open one of the transparent turquoise litter sacks that hang nearby, could not disrupt a sense of the tranquil.
Contentment can be like that, it creeps up on you unawares, there are suddenly moments when you think, "this is a good time and place." A €4.80 lunch, contentment can even come cheaply.