What does compassion require?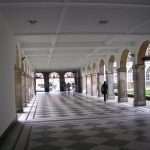 Frail and eccentric, appearing in unlikely places, phoning at unlikely hours, as early as 7.30 am in the morning, as late as 11.00 at night, there have been many conversations with him. His reputation is not untarnished, there have been prosecutions for lewd behaviour, and there are moments when he can be intensely annoying, but he is an old and a vulnerable man, one more in need of support than blame.
This morning at 11.30 am, he sat at the doorway of the hospital, the folding chair he carries with him everywhere enabling him to take his ease wherever he might find himself. "Good morning," I said, "what are you doing sitting here?" Hospitalized with serious illness himself on a number of occasions, it was possible that he should have been sitting in one of the wards, rather than at the main entrance.
"I'm waiting to visit a friend of mine. They say that visiting doesn't start until half past two."
Of course, he was technically correct, the advertised public visiting time did not begin until 2.30, but if the ward rounds were not taking place and it was not a mealtime, the person in charge of the ward could exercise discretion to allow in a visitor. Perhaps his friend was in one of the acute care units. "Which ward is your friend in?"
"He's in physical."
"Oh," I said, none the wiser. It could have been medical or surgical. "I am going to see some people."
"That's alright, I'm waiting here. I'll come out to you some Sunday."
"Do that. I'll see you then."
The automatic doors slid open and I walked into the foyer of the hospital. It seemed harsh, him sitting there, just waiting. What would he do when lunchtime came? But if I were in charge of the ward, wouldn't I suggest to someone who could be loud and unpredictable that visiting did not begin until 2.30? Wouldn't I have a duty of care to the person being visited, and to the other patients on the ward, to see that they were not unduly disturbed? He could easily have brought in his chair and taken up station at a bedside.
Compassion for the nurse required that he be excluded until the time of general admission, even if that meant that the man sat outside for three hours. But what would compassion toward the man require? Shouldn't I have done something, offered to take him somewhere? But what then? What would happen to the work that needed to be done? Perhaps compassion is something that needs to be done as a community, something where people need to co-operate to ensure a best outcome.
An hour later, as I left, he was gone. Perhaps the nurse had relented, perhaps he had decided the wait was too long.