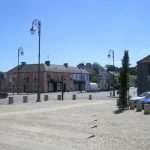 Driving from Abbeyleix towards Mountrath this morning, I wondered about them. It must be at least two years since I saw them, partygoers on a back road in Laois. Searching for them, the two years is actually five years ago, tomorrow.
Turning onto the side road at 8.30 this morning, everywhere around still seemed in a Sunday slumber.  The road is wide and open, though there are rarely more than a few cars in the eight miles between one town and the next.  Accelerating as the speed limit signs were passed, there wasn't a soul in sight, but a mile or so from the town a strange apparition appeared. Two women were walking towards the town, one a bottle blonde and the other henna red, dressed in short black cocktail dresses and wearing high heeled shoes.  They talked and laughed as they walked along, as though being in a party dress on a back road in the Irish midlands at half past eight on a Sunday morning was an everyday occurrence.  I checked the rear view mirror to ensure that they had not been a figment of the imagination.

Clearly they had been at a party, but where had it been and where were they going? The party would not have been on the road they were walking, which has no more than a scattering of small farms, so how had they come to be where they were? What circumstances had conspired to bring them to this spot?  It was hardly a case of hitching a lift and being dropped off along the road; no-one would have left them distant from the town.

Living in Dublin, seeing people at all hours of the day and night was normal.  Once when driving down the N11 at 4.40 in the morning there had been a double line of taxis heading in towards the city, presumably having taken fares to the outer suburbs.  In the country, life is more predictable, at 8.30 on an August Sunday morning you expect to see farmers on tractors and the odd person heading off to an agricultural show or sporting event, you do not expect to see a pair of twenty somethings in little black numbers.

There is something oddly reassuring about seeing people doing odd things in odd places, as though there is something in the human spirit that defies convention, that is untroubled by the thought that passers by might think it unusual, eccentric even.

Had there been time, the mystery of the women might have been answered by offering them a lift to the town, but that would have broken the spell, it would have produced some sensible, rational explanation for their presence.  The best thing of all about odd occurrences is the chance to speculate at length as to the story behind the event.
Perhaps, five years will be a significant period and tomorrow, whilst driving to Roskelton church, they will again be sighted.