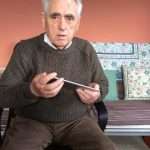 18th December – My Dad is eighty today.
Looking back over the memories, there are very, very many, but, as is the case with most people, it is the memories from childhood and youth that are the most vivid.
One of the most profound memories from the week after my sixth birthday in October 1966. My Dad is standing in the farmyard talking to my granddad, the only words I remember spoken by my Dad are "they were exhausted." My Dad is wearing overalls and black Wellington boots, and is covered in black dust.
During the years that followed, the background to that scene slowly unfolded. My Dad had been a member of the Civil Defence Corps and had gone to help with the digging at Aberfan, where on Friday, 21st October 1966 a coal slag heap had slipped, engulfing a farm, several houses, and Pantglas Primary School. 144 people had died; 116 of them schoolchildren.
My Dad never talked about what it had been like to be among a community overwhelmed  by tragedy. He was never a man to talk about what could not be changed.
16th August 1977 was the day before we went away for our annual holidays, a memory verifiable by the fact that news of the death of Elvis Presley in 1977 came on the radio as the camping equipment was being packed into the old Bedford van that carried everything, including a kitchen sink, westward to our chosen destination. Whatever destination was chosen, we tended to end up at Westward Ho! anyway, although in 1973 we did manage a week in Saint Ives.
At nine o'clock on a Friday evening, there would have been frantic activity to gather everything necessary for a fortnight away. There was a year when we went away for three weeks, but this had entailed my Dad going to Scotland to work for the middle week, which had rather spoiled the mood of the first week and had meant the third week was spent trying to catch up with lost time. In retrospect, the amount of preparation for the holiday seemed disproportionate to going to a campsite which was only seventy-two miles and an hour and a half's driving time from home, nevertheless, the preparation lent a sense of anticipation to our departure. Saturday would come, and with a great deal of fuss and last minute checks of the inventory of items necessary for survival in a North Devon resort town, we would set off. Perhaps the campsite did not allow new arrivals until late afternoon, or perhaps out of a desire to avoid the worst of the traffic on those summer Saturdays, we would not arrive until teatime. Any idea of going to the beach, or, indeed, going anywhere further than the toilet block was excluded until everything had been unpacked and set up for the fortnight.
My Dad was a man who liked to check and re-check, who liked everything to be right, and who definitely liked to be ready early.
A third memory is from June 1981.
The train pulled into Yeovil Junction at twenty to five; opening the door meant sliding down the window and leaning out to turn the handle. Having dropped out of university with severe depression in April 1980 after just two terms, and having returned twelve months later to complete first year, it seemed like the end of a very long journey. My Dad stood waiting on the platform and moved to help with the weight of the suitcase. We walked up the stairs and over the bridge to reach the car park. Memories of that June afternoon are fresh, even the taste of the tea at the house of my grandmother where we called on the way home. My Dad had always been there to help in the dark times of the previous year.
My dad is a man who was always there, for us and for anyone.