The darkness of human nature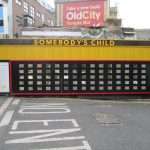 The idea of "total depravity," the Calvinist doctrine that human nature is thoroughly corrupt and sinful was popular among some students at theological college. Perhaps I was too much of an English liberal, but it was not an idea that was borne out by the reality I experienced. When the lecturer said he believed that we experienced original grace as well as original sin, I agreed with him. Most people I knew were basically good and decent. Of course, they were not faultless, of course, they were not without thoughts and words and deeds that the church would have regarded as sinful; but nor were they totally depraved.
In the town where I served as a curate, there was a plentiful supply of preachers who would harangue their congregations each Sunday morning and evening, telling them how corrupt and sinful they were, how far they were from righteousness, how they were doomed to everlasting damnation unless they took to heart the words of the preacher. One godly woman I used to visit, a woman who lived a simple life alone in a small terraced house; a woman who had no television and no radio; a woman who read no newspapers or books; a woman whose Bible and prayers were the only diversion from her housework; believed the preachers, believed herself totally depraved.
It was thoughts of that gentle woman, living her austere life of prayer and Scripture-reading, that made me recoil from ideas of total human depravity. I knew my history, I had studied Fascism and National Socialism and Soviet Communism during university days, but I believed evil arose among extreme people in extreme circumstances.
Then moments come along that cause you to think that the adherents of Calvinism were perhaps right, that there is perhaps far more depravity in the world than we can begin to imagine.
Depravity seems sometimes to wear a smiling face, a pleasant voice; depravity seems sometimes to come in respectable clothes and to command respect; depravity seems sometimes to come so heavily disguised that it is hard to imagine that it might be possible. Depravity is sometimes so devious and manipulative, that its victims feel themselves the guilty ones, that those with courage to point to the presence of depravity find themselves in the dock, find themselves the accused. Depravity is at its most powerful when it finds a presence among those who would present themselves as righteous; it is at its most powerful when it finds a place in the church.
One can believe in original grace, but only the concepts of original sin and total depravity seem sufficient to cope with the reality of some people. Jesus acknowledges that horrible reality, warning those who would harm children, "If any of you put a stumbling-block before one of these little ones who believe in me, it would be better for you if a great millstone were fastened around your neck and you were drowned in the depth of the sea."
The millstones should be plentiful.