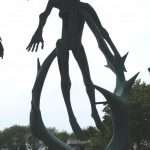 Three or four years ago, whilst attending a performance by the radically subversive music duo The Rubberbandits, a friend sent a text, "It's Weimar."
There was a chilling moment when reflecting on his words. Weimar permitted artistic and social radicalism, it allowed freedoms unimaginable before the Great War. Weimar also failed to develop durable democratic institutions, it failed to address the rising mood of populism and disaffection, it failed to stop the advance of National Socialism.
It was uncomfortable to think that the current times might bear any resemblance to Weimar. There was a hope that any discernible similarity might quickly disappear. The text pre-dated any of the political developments of the past two years; it pre-dated the rise of British xenophobia and the triumph of populism in the United States. It causes one to wonder how durable might be our democratic institutions.
The relentless rolling news coverage of Brexit and Trump has brought an instinctive desire to change channel – ITV 3 and BBC 4 have become the places of refuge. Last night was a delight, at nine o'clock on BBC 4 there was the first programme in a series, The Art of France. It was a programme that offered an escape from ugliness, an encounter with pure beauty. Watching only news-free television channels has been accompanied by keeping the car radio tuned to RTE Lyric FM, where news is confined to brief bulletins at half past the hour.
Retreating from the unpleasantness of the world, it is not hard to imagine why pastors ministering in oppressive regimes might have retreated into their books and their parish duties.
"It's Weimar." My friend's comment surfaces in the consciousness. Victoria Barnett's book, "For the Soul of the People: Protestant Protest Against Hitler," identifies those who, like myself, retreated from the horrible reality of the world outside into the privacy of their own studies and ministry. A reflection in 1988 by Hans Thimme, a pastor in 1930s Germany, makes no attempt at excuses:
. . . All of us were compromisers, somehow, one almost has to say that, even those who were consistent opponents. Only in retrospect does one notice how one existed somewhat schizophrenically I was a pastor of the Confessing Church, and I never made any secret of that … but I always said, I am not against the state; I'm against this ideology. But basically one couldn't separate the ideology from the state, since this ideology was the official state. And here one made compromises, and – it's hard to say. I don't know if I could do differently, if the situation repeated itself.
Turning to BBC 4 instead of watching the nine o'clock news means avoiding realities that are immediate, it means compromise, but it is hard to know how to make any difference.