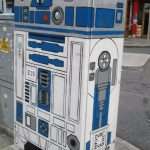 Being someone with an infinite capacity for wasting time, the Facebook posts by RTÉ archives  provide ample opportunities for whiling away an evening. This evening's post from the archives concerned the sighting of an unidentified flying object at Mullinahone, Co Tipperary in February 1969. A week after the sighting, RTÉ presenter Cathal O'Shannon interviewed those who had seen the UFO, then a fortnight after the "close encounter" local council officials tested the ground for radiation.
It is forty-eight years ago today that RTÉ broadcast the edition of "Newsbeat" that featured the UFO story, but the fascination with possible extra-terrestrial life endures. The Irish media this month carried reports of six UFOs being sighted from the International Space Station, a sighting recorded on camera until one of the ISS crew put his hand over the camera, an allegedly deliberate action to prevent anything else being seen.
The most famous claimed encounter with supposed extra-terrestrial life was some seventy years ago at Roswell in New Mexico. The United States Air Force reported that a weather balloon had crashed, a story that was accepted for thirty years, until the 1970s when a multitude of theories began to emerge. Stories now abound concerning what is supposed to have happened – a spacecraft with alien life forms is said to have crashed. There has never been evidence presented to suggest that the original story was not true, but efforts to dispel speculation simply add to the conspiracy theories.
In a time of "fake news," and a distrust of any authority or source that is associated with the "Establishment," it has become impossible to argue with those convinced that their theories, however fanciful, have as much validity as assertions based on empirical research and rigorous evidence. To appeal to scientific or academic writers is to be accused of being in thrall to "experts."
If research and evidence are not convincing, perhaps appeal to people's own powers of logic can prompt thought.
If someone asserts the reality of UFOs, either in a field at Mullinahone, or in sight of the International Space Station, then they will be familiar with the reality of the space through which those craft must have travelled. If a UFO has come through space to reach Earth, then logic should tell those who believe this has happened that the technological expertise of those travelling in them is so infinitely greater than the technology possessed by those those of us here on Earth that, if the alien life forms should be inclined to communicate with us, they would already have done so, in an unambiguous way. If they have not communicated, either they are not there, or they do not wish to talk – and nothing we can do to uncover, or conceal, a story can make a difference, whether it is interviewing people in 1969, or covering a camera in 2017.