Lent Sermon Series 2017: Difficult words – Temptation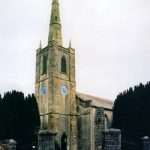 "Lead us not into temptation." Matthew 6:13
Our thoughts this Lent are inspired by the work of Canon Geoff Bayliss, from the Church of England Diocese of Oxford, on the language we use in church and how difficult many people find many of the words we use.  There are words regularly used in prayers, hymns and sermons that might mean very little for many of those listening, so during Lent we are looking at six words that are often used which we might find it difficult to explain. We begin with temptation.
Temptation is a word that we all understand, or do we? Temptation is about wanting to do the things we know we shouldn't do – eat chocolate or cream cakes, it's about that feeling of wanting to say things we shouldn't say, or go to places we know we shouldn't go. Temptation is much more than those things, though, when we look at the Bible we see it is something much more difficult than we might imagine.
Our understanding of temptation is part of a picture that many people have in their minds of Christianity being about all the things that we must not do; for many people Christians are people who say, "thou shalt not." Resisting temptation in times past was about not going to the cinema or to dances; it was about not wearing make up or playing cards; it was about not drinking or smoking. Was Jesus really against lipstick and jazz music? Wasn't the idea of temptation trivialised in being made something about private and personal habits?
The word used for temptation in the New Testament is "peirasmos," it is a word that is much stronger than what we think of when we think about temptation, and perhaps it is a word that is much more helpful to us in our daily lives. Peirasmos can mean temptation, but it can also mean trial, or testing.
In the New Revised Standard Version, the translation of the Bible we use Sunday by Sunday, "lead us not into temptation," words from the Lord's Prayer with which we are familiar, are translated, " do not bring us to the time of trial." If our thoughts of temptation have been about chocolate eclairs and other similar things, then the idea that it is a time of trial that we wish to avoid can have a much more powerful meaning.
Temptation is not so much about doing what we should not do, as not doing what we should do. When we think about temptation as trial or testing, we see it as something which affects a much bigger part of our life. When Joseph Scriven wrote the hymn, "What a friend we have in Jesus," he saw how far temptation stretched into our lives:
Have we trials and temptations?
Is there trouble anywhere?
We should never be discouraged,
Take it to the Lord in prayer.
Temptation wasn't about saying "no" to trivial things, instead it was associated with trials, trouble and discouragement. When we look at the temptations of Jesus in Saint Matthew and Saint Luke, we see Jesus facing these things which would turn him away from God. He is troubled by hunger, he is subject to provocation and discouragement by the Devil, and he has to face the trying fact that the building the Kingdom of God will be something much more difficult than becoming ruler of the kingdoms of this world. Temptation is not about chocolate.
Temptation is a difficult word because it is a word that we first surrendered to those who made being Christian into something that was about a list of things that we should not do; and then, being made trivial, it was easily surrendered to the manufacturers and the advertisers who wanted to persuade us that the thing that they wanted to sell was something that was very inviting. Temptation is about turning away from God, it might include small things in life, but it certainly includes much bigger things. Perhaps one of the Devil's successes has been to reduce our thinking to the point of chocolate and biscuits and to divert us from the significant things of life.
Fondness for the traditional words of the Lord's Prayer should not obscure us to the fact that for some people those words can lack the meaning that they should have. If we are to retain the words, we need to be better able to explain what it is we mean when we talk about temptation. We need to be able to say that we are talking about the testing times, the times when even daily life itself can seem a trial.
When we have a better understanding of what temptation means, it can help us to get through the days. When we feel that there are times when nothing makes sense, when we feel there are times when we have almost given up, we can know that these things happen.
The response to temptation suggested by Joseph Scriven is the wisest one, "Take it to the Lord in prayer." Jesus knows about trials and troubles and discouragement, like sitting down with an old friend, we can sit and talk about something that is very difficult.