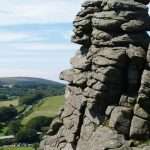 Sally Vickers' Mr Golightly had adjourned to Dartmoor for a break, taking out a lease on a cottage to give himself time to reflect and to work on the re-writing of his best-selling book. Mr Golightly had made little progress with his writing, but had developed friendships with people in the small village. Tragedy had befallen the small community in which he lived, the woman from the cottage next door had died saving a boy whose life was threatened by a violent man:
In a pensive mood about all that had happened and with a heavy-heart, Mr Golightly agrees to meet his old adversary on one of the tors, one of the rocky outcrops that top the moorland hills. They talk:
"And yet there is my son," Mr Golightly broke in, not wanting the other to broach the name.

For the first time, his old rival turned to face him fully and his eyes looked like ruined stars. "I was going to say," he suggested mildly, "that, from my rare observations of the phenomenon, to love another means in some sense to put oneself in their person; and for that to be possible there must first be the extinction of the self. I offer the idea in pure humility -" Mr Golightly gave a slight nod — "this, perhaps, is what your son —'

"Was that why you had him killed?' broke in Mr Golightly.

"I was no more responsible for your son's death than you were for saving the life of that boy you are so fond of!'  replied the other, sharply.

Somewhere a rock tumbled noisily down to the river.

The other resumed. "If nothing else, I know what is due to a kinsman. Don't lay that barbarity — or this latest local t disaster —" he waved his hand in the direction of the mire – "at my door."

"Whose then?"asked Mr Golightly, feeling a flash of anger that the death of his friend and neighbour should be summarily dismissed.

"Do you really not know? said the other. "Surely you see that it was neither you nor I but your own creation, your pride and joy, that brought about the death of your friend and killed your own son: pinned his human flesh through with nails to hang in the hot sun till his unsupported neck fell on his own windpipe and slowly suffocated him. A particularly unsophisticated method of dispatch.

"It wasn't you who put them up to it?"

"No more than you. You allowed them choice – remember? And they chose to save the life of a common murderer."
Was this the choice that was made on another hilltop twenty centuries ago? The choice made to go the way of suffering and death instead of succumbing to the adversary's offer of taking the easy way?
Again, the devil taketh him up into an exceeding high mountain, and sheweth him all the kingdoms of the world, and the glory of them;  And saith unto him, All these things will I give thee, if thou wilt fall down and worship me. Then saith Jesus unto him, Get thee hence, Satan: for it is written, Thou shalt worship the Lord thy God, and him only shalt thou serve.
Was there a temptation not to allow people to make the choice they made?