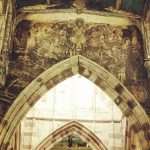 A doom, I had never seen a real doom before. It was only mentioned in passing, but, as soon as lunch was over, I was determined to walk the short distance to Holy Trinity Church beside the cathedral in Coventry to see it for myself.
The medieval church used to use such scenes to terrify people into attendance, into outward expressions of belief, even if there was no inward faith. Not believing, and believing in the right way, meant that you would burn forever in hellfire. It is hard to reconcile the Jesus found in the Gospels with the horrifying, nightmarish pictures conjured up in the medieval Dooms; these pictures painted to educate people as to what awaited those who dared to differ from the bishops and the priests.
What sort of God sent people to eternal punishment because their country happened to be Catholic or Protestant? What sort of God punished working people because they obeyed what they were told? What sort of God punished the poor for believing the stories told to them by the rich and the educated?
The Last Judgment seemed to have more to do with the control of people than with the love of God.  I attended a fundamentalist Christian school where a day did not pass without us being reminded of the eternal flames that awaited those who did not sign up to their brand of religion. Their efforts had resulted in me declaring myself to be a Communist, a sure and certain route to the hot place, not that I worried; if God was their god, I wanted nothing to do with him. A God who judged people on obscure points of theological doctrine, rewarding the rich and the comfortable, while turning his back on common folk, was not much of a God.
Arriving at Holy Trinity Church, I realised a service was taking place. A notice outside announced that it was the weekly service of wholeness and healing. Fifteen or twenty people were dotted around the church and the worship was being led by a woman who spoke in a gentle and reassuring way. Picking up a service booklet, I slipped into a back pew. After the closing prayers, there was a sharing of the peace. The congregation were clearly regular attenders, shaking hands with everyone with smiles and warmth. There was an atmosphere of peace and the sound of harp music and anyone who wished to go forward for prayer was welcome.
Pausing to ponder the silence, I stood up to leave. Two o'clock was approaching and the seminar would resume, I almost forgot to look for the doom, it was there sure enough, painted high on the roof timbers, but it was incidental to having been in the church – grace was far more powerful than judgment.
if only the church had accepted the way of grace instead of the way of judgment – of course, grace would not have offered wealth and power and the capacity to dominate a society, but it would have offered the way of Jesus.