Rector's Letter – Summer 2017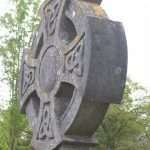 The closing days of June were a difficult time in the North. Tensions within communities built up. Vulnerable people were intimidated by youths building bonfires. Policing, difficult at the best of times, became all but impossible. By the beginning of July, many people had left the Province, heading for Britain or the Continent, or crossing the border to Donegal or to go "down South." The 1st July marked the beginning of the busiest days of the "marching season," sectarian feelings would be heated, sometimes by the weather, more often by alcohol and inflammatory words.
For someone ordained in the Church of Ireland and reading the Gospel stories, it was hard to understand how the church simply accepted all that took place; and not only did it accept what was happening, it held church services for those who participated. There was a need to take seriously what was happening, to talk to the people who participated, to try to understand the causes of the confrontation and violence, but there was no inclination to do so. When the Church of Ireland finally responded to the problems of Drumcree, it spoke about the parades; it never seriously tried to understand why people would feel so insecure that they wanted to take part in those marches.
There has been a fear in our church of asking difficult questions, and it has not just been in the sphere of politics. At a widespread level, church attendances have been falling and parishes have been failing. (a recent profile of a suburban parish in the diocese of Down and Dromore showed Sunday attendance down to just 6% of the Church of Ireland population). The Church of Ireland has been loath to ask the awkward questions about the future, behaving like a child who pretends something will go away if no-one talks about it.
None of us would expect to succeed in farming, or in business, or in whatever work we were doing, if we didn't ask hard questions about what we were doing and why we were doing it. If we ask such questions in everyday life, then shouldn't we ask such questions in church life? Shouldn't we ask where our parishes might be in ten years' time? Shouldn't we ask if the ministry of the church might be done in a different way? Shouldn't we ask about the cost of full-time clergy? Shouldn't we ask about the ways we do our worship? Shouldn't we ask about how our church is organised?
Asking questions is not easy, but not to ask them creates situations that are even more difficult.