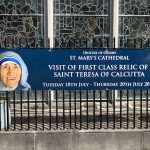 In "Tentacles of Doom,"one of the more bizarre episodes of the very bizarre Channel 4 comedy series "Father Ted," three bishops are sent to Craggy Island, the parish of Father Ted Crilly, to upgrade the "Holy Stone of Clonrichert" to a "class two relic." The episode was filled with the dark and surreal humour that characterised the series, and, for those of us who knew nothing of relics of any class, seemed thoroughly absurd.
More than two decades after "Father Ted," the holy stone of Clonrichert sprang to mind: a banner advertised the visit of a "first class relic."  Did such a thing really exist? How were they graded? And, in 2017, did people really still believe in the efficacy of such things? Apparently, relics really do come in three classes and a first class relic is part of a saint's body.  It all seemed very macabre, given that the saint concerned only died twenty years ago, one wonders who took the decision to extract relics. It is difficult to imagine that the members of the Orange Order engaged in Twelfth of July demonstrations would not have found satisfaction in evidence of the persistence of medieval practices among those whose religion they criticize. The notion of a "first class relic" would have been ripe material for the demagogues on the platforms at the demonstrations.
Oddly, it was such medieval religion that created the religious climate out  of which Protestantism and then secularism arose, relics and the like were the catalyst for the historical process that led to the society of the Twenty-First Century. The Protestant Reformation that rejected the medieval beliefs brought about a fundamental and irrevocable change in the world, it undermined claims by anyone  to speak with authority about the affairs of humanity at all times and in all places. Brad S. Gregory's The Unintended Reformation: How a Religious Revolution Secularized Society describes the development of a situation of relativized doctrines, a world where it became accepted that truth claims were only valid for those who belonged to the body making the claims:
It is possible that Hutterite Anabaptism or Wisconsin Synod Lutheran­ism or liberal Methodism or Unitarianism or double-predestination Pres­byterianism or James Nayler's Quakerism might be the fullest expression of Christian truth. Justification by faith alone might or might not be true; the sacraments might or might not be important; specific dogmas might or might not be essential; some sort of formal liturgy, or waiting for the Spirit to speak, might be the way in which God wants to be worshipped. But how would or could it be sorted out? Attempts to settle such questions can only unfold based on rival criteria that are themselves in dispute, and all proposals of new criteria only compound the problem. Nor are there any shared institutional mechanisms for resolving Protestant disagreements. The evi­dence is plain to see, spread across nearly five centuries. Consequently, there are no foreseeable prospects for determining which among all the competing views might actually be true based on the foundations or criteria put forward, no matter what they might be, or how deeply their protagonists might feel about their respective views or experiences. No one's sincerity is in doubt.
Of course, aspects of Gregory's contention would be contested by Catholics and evangelicals, liberals and Pentecostalists, but each argues from their own understanding of what is authoritative. Short of reverting to the conflicts of the Sixteenth and Seventeenth Centuries, it is not possible to determine which perspective should prevail. Europe experienced the Wars of Religion and grew weary of them. The Enlightenment ushered in a new, secular age and religion increasingly became properly a matter of individual conviction.
First class relics are a reminder of the individual freedoms that arose from the conflicts the relics and their like had caused.